Phoenix, AZ (1/26/2017) - Pro Motorsports' Gareth Dihel scored an overall win in the SXS 1000 Stock portion of the SXS World Finals. Dihel's first WORCS victory came in the season opener in Primm, NV. Teammate Matthew Hancock experienced clutching issues in the Pro Production race, but managed a ninth-place finish overall.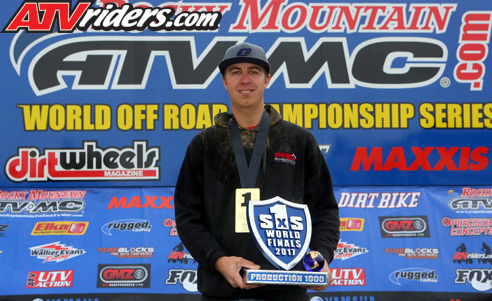 Pro Motorsports' Gareth Dihel scored an overall win in the SXS 1000 Stock class at the WORCS SXS World Finals
The race was run as a doubleheader weekend with a short course race on Saturday, followed by a traditional off road race on Sunday. Weather conditions hampered racers and organizers, alike, with rain washing out qualifying on Friday, beautiful blue skies and warm temperatures on Saturday and winter weather with sleet and rain on Sunday.
Gareth Dihel made the 2017 opener count. He came out of the gate strong in the short course race, finishing second. In Sunday's race, he grabbed the holeshot and scored the win for the overall victory.
Gareth Dihel came out of the gate strong, finishing second in the short course race on Saturday after getting the early lead
"I was feeling really good this weekend," said Dihel. "I'm going for the championship this year. It was really cold and rainy so I took an extra pair of goggles in a bag duct taped to my seat. It worked out well. A big shout out to Maxxis Tires, Sparks Tuning, Tireblocks, Pro Motorsports and ATVRiders.com."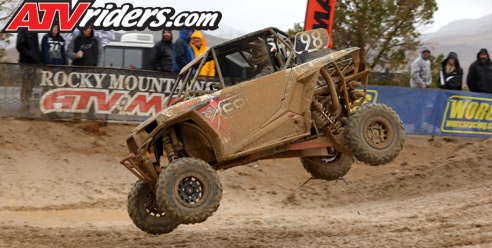 Gareth Dihel took the win on Sunday in the mud to score the SXS World Finals Overall Win
Matt Hancock had difficulties during the weekend. He ran both the SXS Pro Stock and Pro Production races and had mechanical issues in both. Never one to hang his head, Hancock will go back to his Tempe shop and get ready to contend for the title this year.
"It was a rough weekend to start the year," said Hancock. "We had some clutching issues and this is not the way we wanted to start the season, but anything is still possible at these races. Last year's champion broke in the first race. We have a lot of racing left this season so we're going to get the cars back to the shop, get them fixed and press on. I just can't thank Pro Motorsports and Maxxis Tires enough. I was ripping before I had the problems."
Though mechanical gremlins sidelined Hancock's charge, he was pleased with how his Polaris RZR ran prior to the issues. A true competitor at heart, Hancock will not be counted out.

Sparks / Maxxis' Matt Hancock grabbed the holeshot in the Pro Production Class on Sunday
"We have done a lot of testing with Doug Roll and Elka Suspension and I feel like we had the best cars out there," said Hancock. "We'll go back to the drawing board with the clutching and we'll come back stronger."
Dihel and Hancock will be back in action as the WORCS series heads to Honolulu Hills Raceway in Taft, CA February 17-19.
2017 Pro Motorsports Team Sponsors:
Maxxis Tires, Pro Motorsports, LKH Farming, Elka Suspension, Tireblocks, ROLL Design, Sparks Racing, FLY Racing, K&N Filters, Method Race Wheels, IMS Products, ATVRiders.com, JR Publications, Finish Line Signs, VisionX lights, RCV Axles, Fasst Co., Polaris Lubricants, Dragonfire Racing