Tempe, AZ (2/24/2017) - Pro Motorsports' Gareth Dihel won his second consecutive race, and Matt Hancock scored a pair of top-tens during the WORCS SXS races at Honolulu Hills Raceway in Taft, CA. Hancock finished fifth in the Pro SXS event and seventh in Pro Stock, while Dihel outclassed the field in the SXS 1000 Stock race.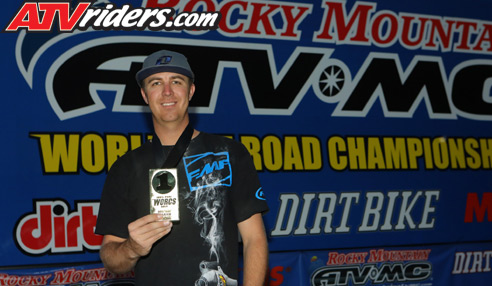 Pro Motorsports' Gareth Dihel wins his second consecutive race in the SXS 1000 Stock class.
Heavy rain inundated the track on Friday and played havoc with Saturday's SXS races, turning the track slick and muddy. Dihel was up the challenge, though. He got up to fourth at the start and picked his way to the front to score the victory.
"It was pretty crazy out there," said Dihel. "I came out fourth on the start and had to do some work out there to get past some people. I came through in the end. This is super exciting. I was super surprised how the track came around after all of the rain. Primm was pretty hard on the car, so we had to replace some parts, but we didn't make any new changes."
Dihel, who came into the season unsponsored, is starting to get noticed due his breakout success in WORCS competition. He has landed one sponsor and is in talks with several more. He hopes to unveil a new wrap on his Polaris RZR soon.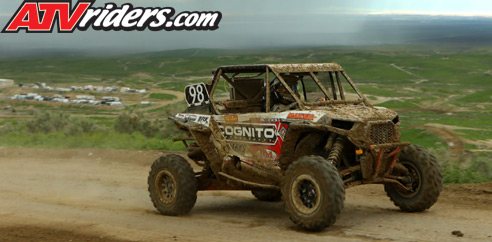 Pro Motorsports' Gareth Dihel grabbed the win in the SXS 1000 Stock class after working from fourth off the start
"I have a new wrap coming featuring my new sponsor GoPro," said Dihel. "I'm also talking to Elka to see how we can get that thing going."
Hancock overcame the muddy conditions on Saturday in the Pro race. After starting on the outside, he came out of the start seventh and made his way to fifth at the finish.
"We did some clutching changes that helped a lot so I got a great start in the Pro race," said Hancock. "I started picking off people and we ended up fifth. I have to give it up to the guys at Pro Motorsports. Jess and Rex really help me a lot. The car worked awesome with the Maxxis Tires and the Elka shocks. I hit a lot of stuff today, so I was thankful for the Tireblocks. It was super muddy, but the stock motor with Sparks tuning ran strong through it. Hopefully this next race in Havasu stays dry."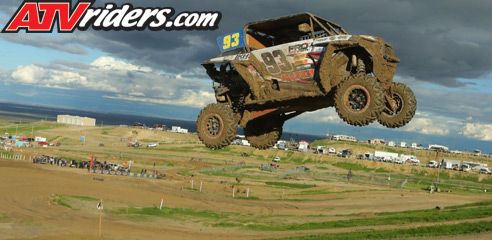 Matt Hancock's Pro Motorsports Prepped Polaris RZR ran strong in the Pro SXS Stock class landing him a fifth place finish
In Sunday's Pro Stock race, Hancock was held back by an internal issue on his Polaris RZR Turbo. He overcame that to finish seventh.

"We think we had a problem with the turbo," said Hancock. "It was topping out at 50 mph, and I ended up seventh, but a lot of people broke so that should help me in points. We've been doing some testing with Doug Roll and we're really making some progress with the Elka suspension."
Hancock and Dihel will be back in action as the series next heads to Lake Havasu City, AZ March 17-19.
2017 Pro Motorsports Team Sponsors:
Maxxis Tires, Pro Motorsports, LKH Farming, Elka Suspension, Tireblocks, ROLL Design, Sparks Racing, FLY Racing, K&N Filters, Method Race Wheels, IMS Products, ATVRiders.com, JR Publications, Finish Line Signs, VisionX lights, RCV Axles, Fasst Co., Polaris Lubricants, Dragonfire Racing