Tempe, AZ (4/6/2017) - Pro Motorsports' Matt Hancock finished fourth in Pro Stock and seventh in Pro SXS during the WORCS racing event at The Orleans Casino in Las Vegas. Hancock's teammate and brother-in-law Gareth Dihel extended his points lead in SXS 1000 Stock with his fourth victory of the season.
The race was held on a unique course setup inside The Orleans Arena and the parking lots surrounding the venue. The track featured hard packed dirt, pavement, metal ramp jumps, a log section, a sand pit, tractor tires and even a big air jump.
In the Pro SXS race, Hancock survived the carnage-filled race. Driving a non-turbo Polaris RZR with a Sparks Racing engine, Hancock ran in the top three for much of the race before finishing seventh. He now sits fourth in the Pro championship.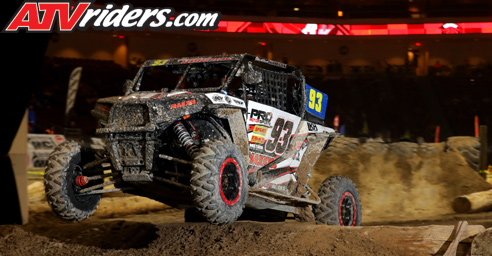 ELKA's Matt Hancock finished 7th in SXS Pro, which has him 4th in the WORCS Points Championship
"I guess I'm a desert guy, not a pavement guy," said Hancock with a laugh. "My car worked awesome. I hit everything out there and our Elka Shocks, Maxxis Tires and Tireblocks were just dialed. I didn't have any problems and I was just ripping. Sparks Racing builds my engines, and I was running a non-turbo in the turbo class. I ran in the top three for most of the race. I knew I needed points and I just kept the car together."
In an equally chaotic Pro Stock race, Hancock started on the second row, but lost his brakes on the second lap. Despite being at an obvious disadvantage, Hancock improvised and snagged a fourth-place finish. He is now sixth in Pro Stock points, which tightened after this race.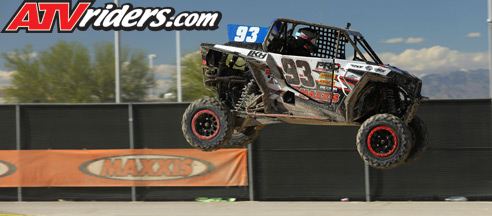 Maxxis' Matt Hancock just missed a podium finish in 4th place in the WORCS Pro Stock SXS Class after time adjustments
"The race was pretty crazy," explained Hancock. "I lost my brakes on the second lap and this track is so fast and technical that it was pretty sketchy. I had to learn really quickly how to drive without brakes. I hit some of these logs wide open and it took it like a champ. Without brakes, I had to pitch it into the dirt, whip the wheel over and it would slow me down just enough. The Elka Shocks and Maxxis Tires just took whatever I threw at them."
Gareth Dihel had his own experience with carnage in the SXS 1000 Stock race. After taking the lead at the start in his Polaris, he got caught up in a crash that took out his front differential and power steering. After climbing back through the field, he was involved in another tangle in the same corner. Amazingly, he recovered to win the race.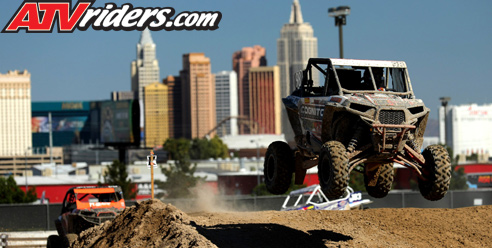 Gareth Dihel scored his 4th WORCS SXS 1000 Stock Class Win at Round 6, which extended his points lead to 26 points
"I took the lead at the start and I slid into the first asphalt section which blew out my front diff and my power steering," said Dihel. "I was running second and, in the same spot, I hit another guy and had some more carnage. I got lucky that we both finished. I needed some points, so it's nice to get this win. The points were getting close there, so it feels really good to get a bigger gap."
Hancock and Dihel will return to action as the series next heads to Sand Hollow State Park in Hurricane, UT April 21-23.
2017 Pro Motorsports Team Sponsors:
Maxxis Tires, Pro Motorsports, LKH Farming, Elka Suspension, Tireblocks, ROLL Design, Sparks Racing, FLY Racing, K&N Filters, Method Race Wheels, IMS Products, ATVRiders.com, JR Publications, Finish Line Signs, VisionX lights, RCV Axles, Fasst Co, Polaris Lubricants, Dragonfire Racing