Tempe, AZ (4/26/2017) - Pro Motorsports' Matt Hancock finished second in the WORCS SXS Pro Stock race at Sand Hollow State Park in St. George, UT. Hancock is now third in Pro Stock points after recording his second podium of the season. He also finished eighth in the Pro race and now sits fourth in that title chase. Teammate Gareth Dihel had a rare DNF in the SXS 1000 Stock Class, but he still holds the points lead.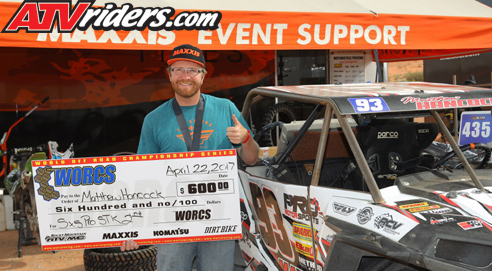 Pro Motorsports' Matt Hancock scored a 2nd Place finish in the SXS Pro Stock at the Sand Hollow WORCS
The race was held at the scenic and rough track known for its deep sand whoops, rocks and tough terrain. In Pro Stock, Hancock had his Elka suspension tuned perfectly for the conditions. After a mid-pack start, he picked his way through the field, took second on the final lap and earned the runner-up finish.
"Everything we use is top of the line and you can really see how these cars can take it," said Hancock. "Running the Elka Suspension, Doug Roll has it so dialed in that as the race got rougher, I got faster. I really picked up time as the race got rougher. Kenny from Tireblocks stayed up changing tires. There were so many rocks out there and they helped me keep pounding."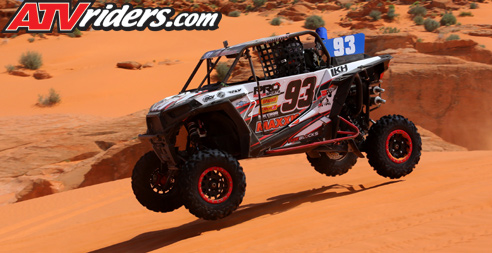 Maxxis' Matt Hancock charged his way from a 6th place start to claim the 2nd spot on the podium in the final lap just 6 seconds behind the class leader
In the Pro race, Hancock was running his naturally aspirated Polaris RZR in a field dominated by turbos. Despite the disadvantage, Hancock drove his Sparks Performance Products built engine to an eighth-place finish, just two minutes behind the winner.
"I got an awesome start and had some turbo cars pass me right away," said Hancock. "With the Sparks Performance Products engine, it's both reliable and fast. You get off base in this class for just a minute and you're done because everyone is so fast out here. You can't run anyone down out here."
ELKA's Matt Hancock finished 8th in the SXS Pro Class at Sand Hollow
Hancock is looking forward to taking a month off before the next race. That event is being held in Cedar City, UT.
"I tend to do well there and we'll get everything together," said Hancock. "I have some ground to make up in the Pro class. We'll keep picking away points and stay on the podium."
Dihel scored a rare DNF in the SXS 1000 Stock class. He was challenging for the lead when electrical gremlins ended his race early. Despite the setback, he retained the points lead.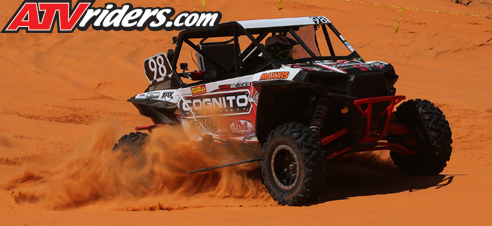 Gareth Dihel suffered season first mechanical issue, which kept him from finishing the race, but he still holds the SXS 1000 Stock Points Lead
"I had a good start in second and made it to first," explained Dihel, who has dominated this season with four victories and an additional podium in seven races. "I had a mix up on the track, and then I had an electrical issue that ended my day. I had to get towed in for the first time. It's been tough. Last time, I had some damage and still won. I took a hit in the points, but I'm still in the lead. It's time to get serious now."
Hancock and Dihel will return to action as the series next heads to Iron Mine Racepark in Cedar City, UT. That race is scheduled for May 19-21.
2017 Pro Motorsports Team Sponsors:
Maxxis Tires, Pro Motorsports, LKH Farming, Elka Suspension, Tireblocks, ROLL Design, Sparks Racing, FLY Racing, K&N Filters, Method Race Wheels, IMS Products, ATVRiders.com, JR Publications, Finish Line Signs, VisionX lights, RCV Axles, Fasst Co., Polaris Lubricants, Dragonfire Racing