Tempe, AZ (5/25/2017) - Pro Motorsports' Matt Hancock had a difficult weekend during the WORCS Pro and Pro Stock SXS races at Iron Mine Race Park in Cedar City, UT. Teammate Gareth Dihel padded his points lead in SXS 1000 Stock with a third-place finish.
Hancock was quickly atop the speed charts in Pro Stock practice and took the lead at the start of the race. Literally racing on his own level, Hancock's car had an electrical issue take him out of contention. He finished 15th and now sits fourth in points.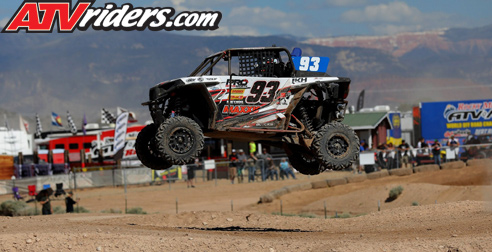 Pro Motorsports' Matt Hancock held the early lead in the SXS Pro Stock
"The car was dialed in," said Hancock. "My Elka Shocks were just running perfect and the SPARKS engine was great. I had a car that could win the race. I got out front and just started driving my race. Then bad luck struck. I had a radiator fan plug pull apart, the car overheated and it went into limp mode. It was pretty devastating to me. We have three rounds left. I know I can do and I am just going to keep charging."
In the Pro race, Hancock had trouble clicking with the car. He finished 11th and sits fourth in points in that class, as well.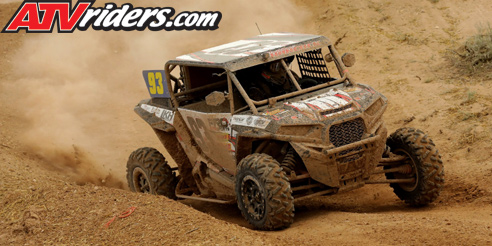 ELKA's Matt Hancock is currently fourth in both the Pro & Pro Stock SXS points championship with 98 points in each heading into the final three rounds of the WORCS season
"The car was running awesome, but I had issues pulling out of the corners," said Hancock. "I needed the points, and the finish is not what I know I'm capable of. I know I can run up front, but at least we got a finish and got some points."
Dihel had an adventure in the SXS 1000 Stock race. After a DNF in the last race, he was determined to improve. He moved quickly to second at the start, and then rolled his car on the first lap. He got out, rolled the car back over, and rebounded to finish third. He now holds a 20-point lead in the championship chase.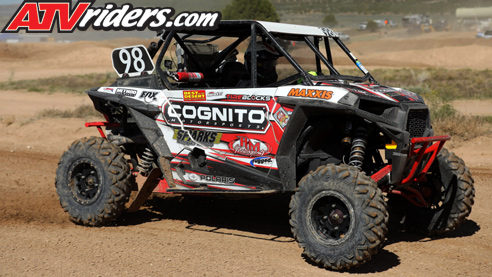 Gareth Dihel earned his sixth top three finish of the season to extend his ponits lead in the SXS 1000 Stock class to 20 points over 2nd place
"Everything was going pretty well, but one of the corners snuck up on me," said Dihel. "With the dust, I didn't see it in time. The brakes made the car go sideways, I hit a berm and flipped over. I got out, flipped the car back over and got to do some more racing."
Hancock and Dihel will return to action as the WORCS series next heads to the first of two races at Glen Helen Raceway in Devore, CA June 16-18.
2017 Pro Motorsports Team Sponsors:
Maxxis Tires, Pro Motorsports, LKH Farming, Elka Suspension, Tireblocks, ROLL Design, Sparks Racing, FLY Racing, K&N Filters, Method Race Wheels, IMS Products, ATVRiders.com, JR Publications, Finish Line Signs, VisionX lights, RCV Axles, Fasst Co., Polaris Lubricants, Dragonfire Racing