Tempe, AZ (6/21/2017) - Pro Motorsports' Matt Hancock put bad luck behind him and finished second in the WORCS Pro Stock SXS race at Glen Helen Raceway in Devore, CA. Teammate Gareth Dihel padded his points lead in SXS 1000 Stock with his fifth victory of the season. Hancock finished 10th in the Pro Production race.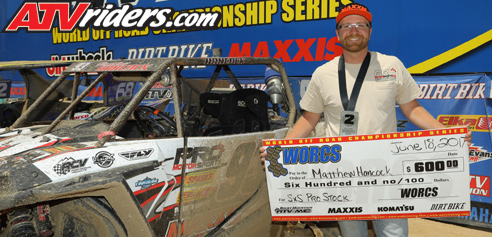 Pro Motorsports' Matt Hancock claimed a 2nd place in the WORCS Pro Stock SXS Class, which moves him into the Top Five in Points
Hancock's team made a quick change to his Elka Shocks before the start of the Pro Stock race and it paid off. Hancock ripped off the holeshot at the start and was charging hard when a brake problem slowed him toward the end of the race. The runner-up finish was his third of the season.
"Once I got out front, the car was just ripping," said Hancock. "The SPARKS engine and Maxxis Tires just hooked up. I've never had any luck here, so I'm pumped to get on the podium. I needed a little boost. It's been a rough year so it's nice to be up front and be reminded that I can drive with these guys out here."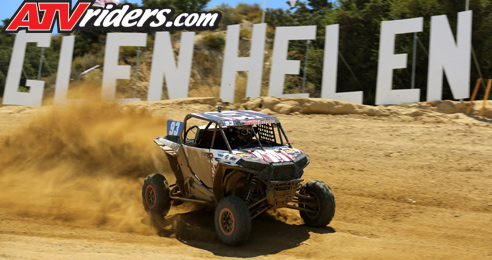 Pro Motorsports' Matt Hancock grabbed the Pro Stock SXS Holeshot
Despite a slow start at the beginning of the SXS 1000 Stock race, Dihel ran a consistent pace on the difficult course. At the race's midpoint, he made a talented move in traffic and took the lead for good. The victory puts him 23 points ahead of his nearest competitor in the championship.
"Slow and steady won the race, I guess," said Dihel. "I happened to make a move in traffic and never looked back. This is going to save a lot of stress. I should be a full race ahead in points and that is going to be huge."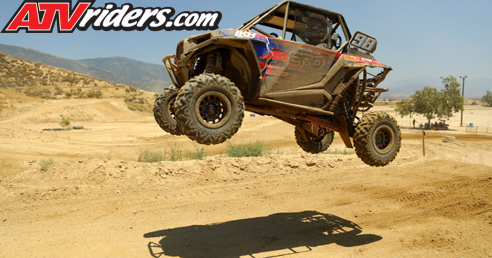 Gareth Dihel took the SXS 1000 Stock Class Win in his newly wrapped Polaris RZR printed by Union Graphic Company's Corbin Wells
Dihel credited fellow competitor Randy Romo for helping him with steering issues prior to the event. Romo showed why WORCS is one of the most racer-friendly series in the country.
"I brought a new steering rack with me, but I was missing some parts," said Dihel. "Randy Romo had two complete tie rods in his trailer. He let me have them and just said to put one in the mail whenever. It's cool to have people like him here. It's nice to meet someone with a good heart to willingly help me out."
Hancock and Dihel will return to action after the series takes its two-month summer break. WORCS will return to Glen Helen for the penultimate race of the season September 8-10.
2017 Pro Motorsports Team Sponsors:
Maxxis Tires, Pro Motorsports, LKH Farming, Elka Suspension, Tireblocks, ROLL Design, Sparks Racing, FLY Racing, K&N Filters, Method Race Wheels, IMS Products, ATVRiders.com, JR Publications, Finish Line Signs, VisionX lights, RCV Axles, Fasst Co., Polaris Lubricants, Dragonfire Racing