Saint-Romuald, Québec (6/7/2017) - YFZ450R billet oversized throttle body with intake system is now in stock at RP race performance. This amazing kit is proven to achieve the highest HP gain over anything currently on the market.
June 2017 Promo: Buy online at retail and send us you the before and after dyno curve and we will refund you $100 Canadian ($74 US)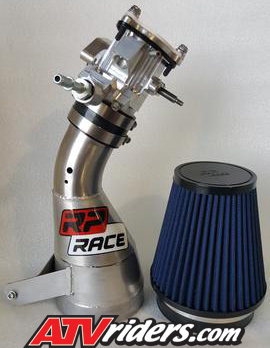 STI's New Enduro XT/S UTV Radial Tire
About Richard Pelchat:
I have created RP Race because I cannot resist tinkering on parts, I just love to push thing a bit farther than most but also I just enjoy winning as much as I hate losing! I am a racer, I need the adrenaline rush. Racing get my blood flowing.
I have won 7 Canadian national ATV championships and that was not enough for me. I went to the USA to do the AMA Pro ATV championship because I wanted to compete with the very best. I would drive 30 hours back from a race just thinking how to make thing better… test a new chassis setup, built a new head pipe for more top end… Limits are not part of my way of life, I am fueled by passion. I have won hundreds of races in my career but the one I didn't won always made me stronger. Now I want you to enjoy the addiction to WIN and my product are designed and build for that!