RRR's Alex Gillette Takes Second at Underground MX
Root River Racing's ATV MX Amateur Race Team Report
La Crosse, WI (4/14/2017) - Root River Racing's Alex Gillette competed in the first round of the 2017 AMA ATV Motocross National Championship April 1-2. Racing was held at Underground MX Park in Kemp, TX where Gillette scored second place in the College class and seventh in 450 A.
Root River Racing's Alex Gillette grabbed the College (16-24) Holeshot
Gillette truly shined in the College (16-24) class where he grabbed the holeshot and battled for first place. There were some mishaps with points and riders when Sky Volkamer, the class winner, accidentally rode in the class without being signed up for it. It was ultimately decided Volkamer would still be scored and gain the points for the win with Gillette in second place.
"Sky was doing the big triple, and I was not, but everywhere else I was catching up to him. If I had a lap or two more, I could have got him. Everything on the Root River Racing bike is working really good this year," explained Gillette.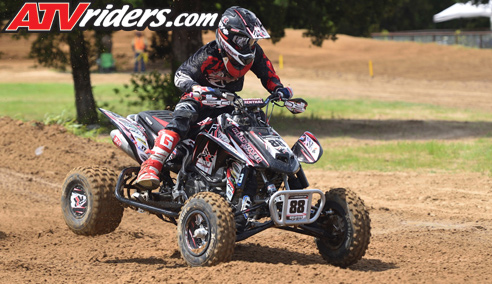 Root River Racing's Alex Gillette finished 2nd in College (16-24)
In 450 A, Gillette did not get as great of a start as he was aiming for, but battled his way up through the pack for a very respectable seventh place finish. Looking ahead for the next round Gillette stated, "I know what need to do, and I'm going to do it."
Logan Tremellen, another amateur rider for Root River Racing, unfortunately suffered an injury that took him out of the competition at the first round. Tremellen ended up fracturing his wrist and will have to sit out the next round of racing. According to Logan's brother, Dylan Tremellen, they will be headed home after the following round in Alabama to consult with an orthopedic doctor to determine the extent of Logan's injury, and the amount of time he will be sidelined.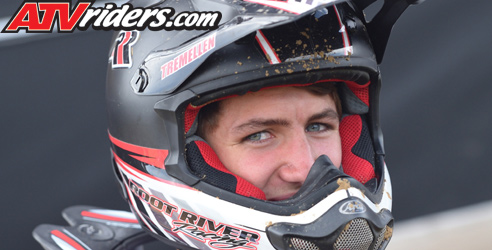 Root River Racing's Logan Tremellen
The Root River Racing amateur team will return to ATV Motocross at the second round of racing on April 15-16 at Monster Mountain MX Park in Tallassee, AL.