RRR Racing's Alex Gillette Ninth at Monster Mountain
Root River Racing's ATV MX Amateur Race Team Report
La Crosse, WI (4/20/2017) - Root River Racing's Alex Gillette competed in the third round of the 2017 AMA ATV Motocross National Championship. Racing was held at Monster Mountain MX Park in Tallassee, AL. Gillette rode in both College 16-24 and 450 A.
Root River Racing's Alex Gillette finished 9th in College 16-24
Gillette's best finish came in the College class where he went 12-7 for ninth overall. Gillette was riding strong but ran into bad luck in both classes that kept him from the finishes he would have liked. "I felt great, I just ran into a lot of bad luck. In College I was shoved over a berm," explained Gillette.
In 450 A, Gillette shot out of the gate with a great start in second place. "I was rolling in third or fourth and an accident happened right in front of me. I clipped the bike that was down and it ripped off my nerf bar, so I couldn't really do anything but roll around the track. It was just unfortunate luck this weekend. The bike was working great," said Gillette.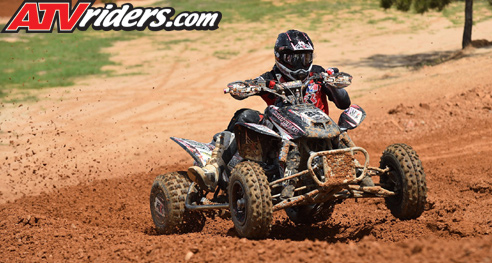 Root River Racing's Alex Gillette
Looking ahead to the next round, Gillette remains positive and confident. "I am hoping to train as much as I can and put the work in. I will go there, try my best, get some holeshots and try to stay out front."
Root River Racing's Logan Tremellen was unable to compete at Monster Mountain due to fractured Scaphoid bone in his left wrist. "I got a checkup and they think they are going to have to do surgery because the fracture is bigger than we originally thought. They think they are going to have to go in and put a screw in. Hopefully I can get it done before High Point and start the healing process," explained Tremellen. The recovery time could be anywhere from eight weeks to several months.
Root River Racing's Alex Gillette will return to racing at the third round in Mount Morris, PA. Racing will be held April 29-30 at High Point Raceway where Gillette will be charging for more holeshots and moto wins.