RRR Racing's Alex Gillette Finishes Sixth at Sunset Ridge
Root River Racing's ATV MX Amateur Race Team Report
La Crosse, WI (6/23/2017) - Root River Racing's amateur racer Alex Gillette continued to gain confidence and experience during round six of the AMA ATV Motocross National Championship at Sunset Ridge MX in Walnut, IL. Gillette finished 11th in 450 A, and sixth in College 16-24.
Riding his RRR/Hoosier/Motowoz Honda, Gillette enjoyed the track, which was hit by rain every night. Though the track was rough, it featured several different racing lines, making for a competitive and fun weekend.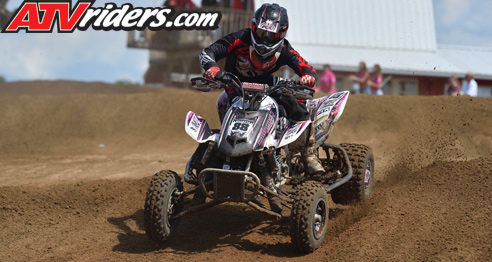 Root River Racing's Alex Gillette is Top 5 in College (16-24) Points
"We got some good starts and charged through the pack during the weekend," said Gillette. "In the first 450 A moto, I got pushed to the outside on the start, but I charged through the pack. I had a lot of fun in that moto."
In the College 16-24 race, Gillette nearly took the holeshot in the second moto. He scored a 5-7 to net a sixth-place overall finish.
"I did well overall," said Gillette. "I had a good start in the second moto and just missed the holeshot. I made some mistakes, though, and ended up fifth."
Gillette appreciated the hard work the track staff put in to make the track race ready. Despite the difficult weather conditions, the track came around well during the weekend. He was also pleased with the performance of his quad.
"The track was great," said Gillette. "It got rough, but it wasn't a bad kind of rough. It was really the best Sunset Ridge track in a long time. "Everything worked great on the bike. The Motowoz stabilizer, Hoosier Tires and the new Beringer Brakes were awesome."
Gillette will continue his growth in the 2017 AMA ATV Motocross National Championship as the series next heads to his home track, Spring Creek MX Park in Millville, MN. That race is scheduled for July 1-2.