RRR Racing's Alex Gillette Top Ten at Spring Creek MX
Root River Racing's ATV MX Amateur Race Team Report
La Crosse, WI (7/6/2017) - Root River Racing's amateur racer Alex Gillette put in a strong performance at the seventh round of the 2017 AMA ATV Motocross National Championship. Racing took place at Spring Creek MX in Millville, MN, which happens to be Gillette's home track.
Gillette competed in both 450 A and College 16-24, both highly competitive classes. "It had its ups and downs," said Gillette of the weekend. Gillette took ninth overall in 450 A with 9-8 moto finishes, but where he truly showed what he was made of was in the College 16-24 class.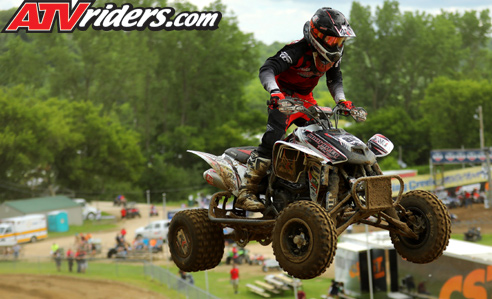 Root River Racing's Alex Gillette
In moto one of College, Gillette battled his way to the front of the pack quickly and was running in third place when some unfortunate luck struck. "I was running good until the last lap. Coming down the hill I had a little accident, and by the time I got going it was just too late in the moto," explained Gillette.
Gillette redeemed himself in moto two of the College class on Sunday with an impressive second place finish. "I am definitely getting to where I am comfortable on the bike and getting the feeling into my memory tissue," stated Gillette. The second place moto finish allowed Gillette to salvage an eighth place overall finish.
Root River Racing's Alex Gillette claimed a 2nd place finish in College 16-24 class on Sunday
Gillette had great things to say about the track at Spring Creek, and with the close proximity to home, Gillette enjoyed the support and company of family members who made the trip to cheer him on. "The layout was the best it has ever been. There were plenty of split lines and it didn't get too rough. I had a lot of family out that normally do not get to see me ride, and it was great to have them come watch," said Gillette.
Gillette will continue to train and prepare for the eighth round of the 2017 AMA ATV Motocross National Championship at Unadilla in New Berlin, NY July 15-16. "I am spending some time at home right now, but we are planning on going to a track over the weekend to get some riding in, and I am going to Josh Upperman's house for a couple days before Unadilla. It is one of my favorite tracks to race all year. I think I will get some good results," Gillette confidently stated.