RRR Racing's Unadilla ATV MX Race Report
Root River Racing's ATV MX Amateur Race Team Report
La Crosse, WI (7/22/2017) - Root River Racing's amateur rider Alex Gillette scored his best two moto finishes of the season during round eight of the AMA ATV Motocross National Championship at Unadilla MX in New Berlin, NY. His teammate Logan Tremellen returned to action after being injured in a crash in May.
After scoring a runner-up finish in 450 A and a fourth place in College 16-24 on Saturday, an unfortunate crash in practice sidelined Gillette for Sunday's motos. In the 450 A moto on Saturday, he stalled his Honda at the start and drove through nearly the entire field to finish second. He took the holeshot in the College race and came out of a four-quad battle to finish fourth.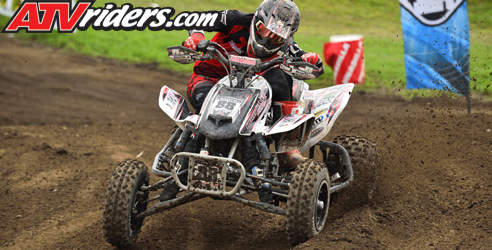 Root River Racing's Alex Gillette
"I was pumped about my finishes on Saturday, but things happen," said Gillette, who sustained a minor concussion in the tumble. "I finally found a comfortable way to ride again and I'm really happy with the way I'm riding right now. We'll keep doing it. I'm practicing and training. We're working like crazy to prepare for the rough track at Redbud."
Gillette was pleased to see Tremellen return to action. Though Tremellen was out for nearly three full months, he finished fourth in 450 B on the merit of 4-3 moto finishes.
"He wasn't pushing it really hard, but his speed is really awesome right now," said Gillette. "I know he's just having fun out there, but he's doing a great job."
Tremellen was happy to be back racing and was quickly up to speed. Though he did suffer from arm pump, he was still quick in both motos.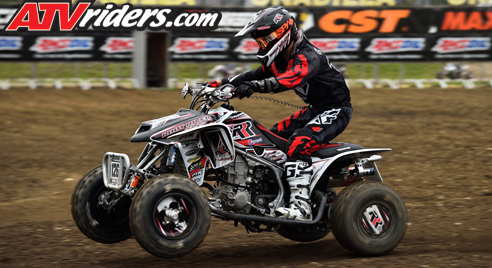 Root River Racing's Logan Tremellen
"I got back on the bike for the first time during Friday's practice and I felt pretty good overall, but I got pumped up from being off the bike for three months," said Tremellen. "Saturday in the 450B race I came about third in the start, made quick passes into the lead, and then got arm pump and dropped to fourth."
Arm pump returned in the second moto, but Tremellen was still fast. Continued training will certainly give Tremellen more stamina in the last two races of the season.
"In the second moto, I just edged out Brogan Guyer in the start and then followed him around the track for the majority of the race," said Tremellen. "I then got pumped up again and dropped into third, giving me fourth overall. I'm very excited to be back on the bike and I am very glad I can have some fun riding again."
Gillette and Tremellen will return to action as the ATV Motocross series heads to Buchanan, MI for its next race at Redbud MX July 29-30.