Root River Racing's Spring Creek MX Pro ATV Report
Root River Racing Pro ATV MX Race Report
La Crosse, WI (7/5/2017) - Root River Racing's Pro ATV Motocross racers Josh Upperman and Dylan Tremellen put in competitive performances during round seven of 2017 AMA ATV Motocross National Championship. The event was held at Spring Creek MX Park in Millville, MN.
Upperman recorded a 5-9 in the two motos to finish fifth overall. Upperman hit the setup perfectly on his Motowoz shocks for the weekend, and drove through the pack to finish fifth in the first moto. In the second moto, he was fifth when a spill on the final lap put him ninth at the finish.
Root River Racing's Josh Upperman finished 5th in Moto One
"We hit our setup this weekend and the bike was working perfectly for me," said Upperman. "In moto one, I started midpack and kept picking people off. By the end, I was up to fifth and gaining. It's a huge booster because we've had some issues lately. The second moto was great until the last lap. I was making a pass on the last lap and made a mistake that cost me. Right after the sand whoops, I came in too hot, I went over the bars, and finished ninth."
Upperman was riding his Baldwin-powered Honda with a new Motowoz shock package. The team made gains all weekend and is looking for good results in the last three races of the season.
"We definitely did some good things this weekend," said Upperman. "We had a new setup from Motowoz and it was on point. I'm ready to go to Unadilla and show them what we can do."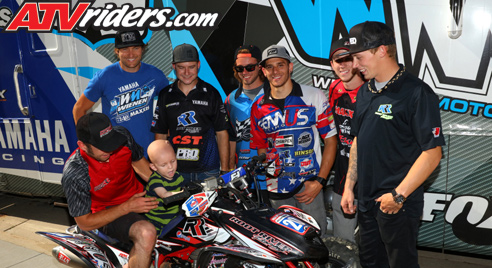 Root River Racing's Josh Upperman along with his teammate, Dylan Tremellen, visited the Ronald McDonald House on Wednesday
Upperman joined several other pro racers prior to the race in a visit to a local Ronald McDonald House. Upperman and his fellow racers entertained the children, showing them a racing quad and even starting it for them.
"It's an awesome experience to see the kids smile," said Upperman. "They got pictures on the bikes and they had a good time. They were very appreciative of us coming out, but I appreciated it more to have the chance to come out and bring smiles to the kid's faces."
Root River Racing rookie rider Dylan Tremellen again put together two good starts, including coming out second in the second moto. He continues to grow as a rider and finished 11th overall with a 12-10 effort.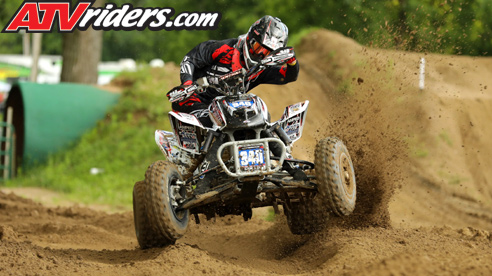 Root River Racing's Dylan Tremellen finished 11th Overall
"I came out second in the second moto and stayed in third for a couple laps, then I faded back to 10th," said Tremellen. "We finished 11th overall, we're safe again and we're looking forward to Unadilla. Unadilla is my home track so I should do very well there."
Tremellen credited the combination of Motowoz shocks, Hoosier Tires and Rage engine for his excellent starts. His goal is to grab a holeshot in one of the last three races.
"Doug and I have been making a lot of adjustments on the Motowoz shocks and they're working great," said Tremellen. "The Hoosier Tires are really hooking up. This is the second start in a row that I got into the top three. Dee Manshack from Rage is doing my engine. Hopefully, we'll pull a holeshot in one of these last three races."
The eighth round of the 2017 AMA ATV Motocross National Championship is scheduled for July 15-16 at Unadilla MX in New Berlin, NY where Upperman and Tremellen will again be seeking the front of the pack.