Root River Racing Scores Top Five Finishes at Daytona
Root River Racing's Amateur ATV Race Team Report
La Crosse, WI (3/17/2017) - Root River Racing's amateur team riders Logan Tremellen and Alex Gillette competed in the third annual Daytona ATV Supercross race at the Daytona International Speedway in Florida. Tremellen took second in Production B while Gillette took fourth in College (16-24) and fifth in 450A for three top five finishes for the team.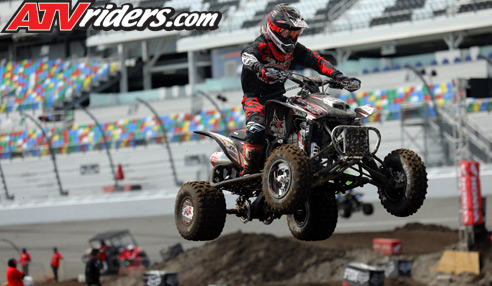 Root River Racing's Logan Tremellen took second in Production B in the 3rd Annual Daytona ATV Supercross
New for the Root River Racing team this season was a cutback on the amount of riders under the team's tent. It now consists of just four riders, two pro racers and two amateur racers. The scaled back team allowed team owner, Rich Gillette, to focus more on his son's racing, and the decreased stress made the time at the track that much more enjoyable. "I can actually have time to relax and watch my son, Alex, race. I really haven't had a lot of time the last few years to get up to the line to wish him well, so that's something that we wanted to get back," explained Rich Gillette.
The racers also enjoyed the smaller sized team. "Alex and I have our own tent, so we have plenty of room. It is a lot more calm and positive with just us four riders," said Tremellen.
The Root River Racing Amateur Race Team (left to right)
Logan Tremellen & Alex Gillette
The improved atmosphere in the pits helped get Tremellen in the right mindset to put in a fantastic race in Production B. "I got second in the holeshot and just stayed that way for the rest of the race. The Root River Racing built Honda, Motowoz shocks, and Hoosier Tires were working great together on the track."
Tremellen made the move up to B class this year after running C in 2016. "I can ride a lot safer and I feel a lot more comfortable in the B class. Second place is a good spot to build off of," explained Tremellen, who plans on running Production B and 450 B throughout the rest of the year.
Alex Gillette also put in a strong ride in the very competitive 450A and College classes. Gillette battled through some issues and crashes in his the heat races, but it did not prevent him from coming back swinging in the main events, where it really counts. "The bike was working good, but I just didn't have it quite dialed in yet. I thought it was decent starting ground to get my feet wet, but I am more excited for the next round at Texas," explained Gillette.
Alex Gillette took fourth in College (16-24) and fifth in 450A for three top five finishes for the team
Gillette will head to Splendora, Texas for the next couple weeks preparing himself and getting his bike dialed in to come out stronger than ever in the following round.
Alex's father, Rich Gillette, was equally happy with both Alex and Logan Tremellen's season debut. "In the amateur classes both Alex and Logan did very well. Logan finishing second in Production B was really a highlight. I was happy to see how well he did, especially on a really tough course. Alex came back in the main of 450A and finished fifth, and in College finished fourth. I was definitely very excited to see how he is riding right now," stated Gillette.
The Root River Racing amateur teammates of Gillette and Tremellen will return to racing at the second round of the 2017 AMA ATV Motocross National Championship. Racing will be held at Underground MX Park in Kemp, TX April 1-2.