Coldwater, MI (4/27/2017) - RT Pro's William Yokley finished third and Michael Swift drove his RT Pro-equipped Polaris to a sixth-place finish in the Camp Coker GNCC UTV XC1 race in Society Hill, SC. The event was the second round of competition for the GNCC UTVs.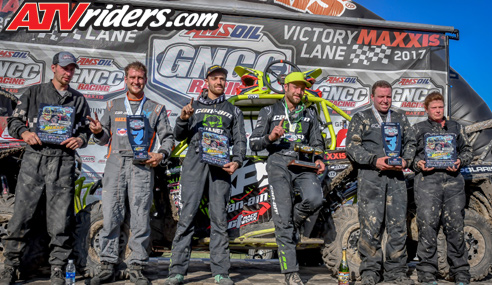 RT Pro's William Yokley secured a spot on the GNCC Pro XC1 UTV Podium with a third place finish at Camp Coker
Yokley returned to GNCC competition this year after a one-year break, driving a new Polaris RZR XP1000 equipped with RT Pro suspension and chassis components. He started on the front row and led a lap before finishing third, marking his first podium of the season.
"It's good to be back and it's been a while since I've been on the podium," said Yokley. "We have a good car and a good program so I knew we had a good shot. All in all, I'm just glad to be back on the podium.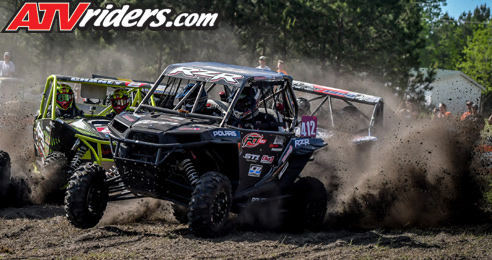 RT Pro's William Yokley grabbed the holeshot in his Polaris RZR XP 1000 on the front row of the XC1 Pro UTV class
The Camp Coker course featured several high-speed sections, as well as tight and rutted woods and a motocross section. Yokley was pleased with how the RT Pro components held up on his Polaris.
"The RT Pro components worked really well," said Yokley. "The suspension components were awesome and we definitely put them to the test. I run the tree kicker on the sides. It's crucial in the woods because I can go through the trees with all of the confidence in the world. I can just take it in and it will glance off the trees. Plus you can use them to turn around a tree. I'd hate to run without them. They are also huge when you're battling people because you don't have to worry about snagging tires."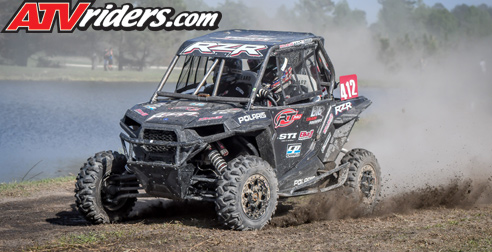 RT Pro's William Yokley is currently 5th in points after two rounds of GNCC Racing
Swift, who is focusing on the UTV effort this season, scored his best GNCC finish of sixth driving a brand new Polaris RZR XP 1000. He started on the second row in the event. After taking the holeshot for his row, he ran fifth for most of the race before dropping to sixth at the finish.
"That is not quite where we wanted to be, but we're making progress," said Swift. "We started with a brand new car. It did well, but we still have some work to do."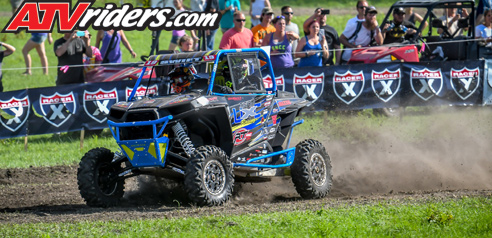 RT Pro's Michael Swift scored a career best 6th place finish in the GNCC XC1 UTV class at Camp Coker
Swift is happy with the result in the brand new ride, after he ran the season opener in a Polaris RZR 1000 S. As usual, his car was equipped with many aftermarket parts from RT Pro.
"We run all of their hard parts—the bumpers, the nerfs and the cage—and their suspension and driveline components," said Swift. "Everything worked really well. The car handled well and the parts did their job. We're coming from the ATV side, but to go out there in a stock engine and suspension, I'm happy with the finish."
Kevin Trantham scored an 11th place finish here, improving five spots from the season opener. He is running a similar Polaris from under Swift's tent.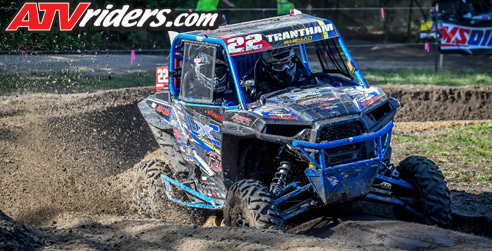 RT Pro's Kevin Trantham
"Off the start, he got hung up on another competitor's bumper," said Swift. "He was happy with the car and how it drove. He has a little different shock setup, but the RT Pro stuff is all the same."

Jesi Stracham drove her second race in her Polaris ACE and finished fifth in the Single Seat class. Despite a lack of seat time in the new ride, she improved two spots from the last race. Stracham doesn't have the use of her legs, so RT Pro built a car for her with hand controls. She also runs from under Swift's tent.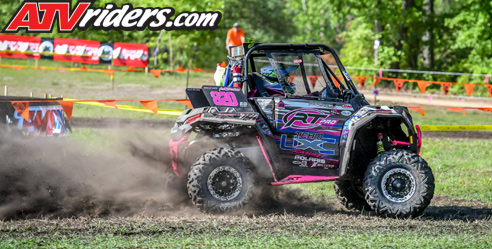 RT Pro's Jesi Stracham finished 5th at the Camp Coker GNCC
"The car was running well and she said the RT Pro car felt good," said Swift. "She just said she needed a little more seat time. So we'll get her in the car more before the next race. This is a brand new car and it was only the second time she's driven it."
These RT Pro drivers will be back in action as the UTVs will run next during the John Penton at Sunday Creek Raceway in Millfield, OH May 27-28.