Coldwater, MI (7/11/2017) - William Yokley, Michael Swift, and Kevin Trantham all turned in competitive performances driving their RT Pro-equipped UTVs during the John Penton GNCC at Sunday Creek Raceway in Millville, OH. Jesi Stracham competed in her custom RT Pro Polaris Ace in the single seat class.
William Yokley had a great run going early, but mechanical issues slowed his charge during the event. Though he finished eighth, he left the event fourth in points going into the summer break.
RT Pro's William Yokley is currently 4th place in points heading into the GNCC Racing Summer Break after three rounds of racing
"The machine worked well, but I just had one of those days," said Yokley. "The RT Pro components held up really well. The nerf bars played a big role bouncing off the trees in the woods. I didn't damage my trailing arms or anything else. The bumpers held up really well. We're happy with the durability of all the RT Pro parts. I had a good car, but some days it's just not meant to be. To have that day and still be fourth in points, I don't have much to complain about."
Kevin Trantham was running in the top three for most of the race until he crashed trying to avoid another competitor and lost time getting back on track. He finished 11th.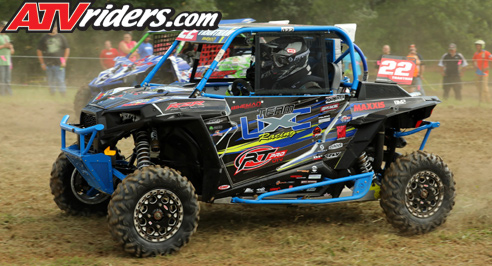 RT Pro's Kevin Trantham was running in the top three for the first half of the race
"I really think we could have been up on the box, but things happen," said Trantham. "We have three rounds left and we'll be ready after the summer break. The RT Pro cage, bumpers and nerf bars, we've definitely put them all to the test and they work really well. We also run their front A-arm brace kit and it definitely did its job after I hit some trees."
Michael Swift was hung up in a bottleneck on the first lap. He got back moving, but mechanical issues one lap from the finish took him out of contention.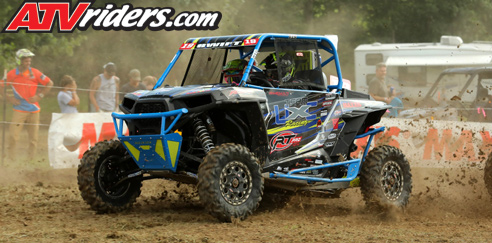 RT Pro's Michael Swift
Jesi Stracham took the holeshot in the single seat race in her specially built Polaris Ace. However, she suffered a mechanical issues on the first lap and wasn't able to continue. Stracham is paralyzed from the waist down, so RT Pro built a car for her with hand controls. She also runs from under Michael Swift's UXC Racing tent.
RT Pro's Jesi Stracham grabbed the early lead in the Single Seat Race
"John Penton has always been one my favorite tracks and I love the muddy conditions," said Stracham. "I started gapping, but I hit a dip and something broke, so rather than being out there without being able to steer and cause a bottleneck, I pulled off. But it's good to be back out racing again."
Stracham is starting to exercise with her legs. She will continue that work over the summer break.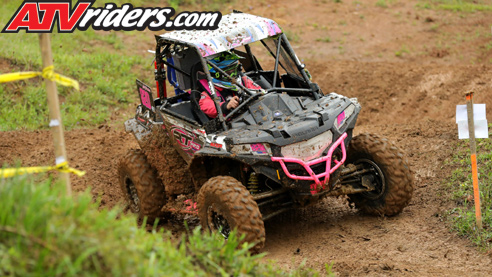 RT Pro's Jesi Stracham
"I'm going to keep these legs working," said Stracham. "I'm standing now with a walker and I'm working on weight shifting, moving the walker forward and taking some steps. Two-and-half years later and we're making progress."
These RT Pro drivers will be heading back to the GNCC Series during the Mountaineer Run in Masontown, WV September 23-24.