San Marcos, CA (4/19/2017) - Polaris RZR Racing's Seth Quintero took on the best of the best in desert racing and scored a finish in the short course 1000 class during the UTV World Championship in Laughlin, NV. The 14-year-old racer was competing in round three of the Best in the Desert Series.
Despite his age, Quintero is rarely afraid to give it his all and he showed that in the event. With a record 300 entries, Quintero took the holeshot on his row and was challenging for position when he hit a rock. After quick repairs in the pits, he was back out and scored a finish in one of the largest classes of UTVs competing.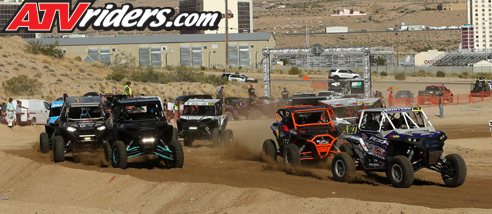 Quintero Racing's Seth Quintero grabbed the Holeshot in his Polaris RZR XP 1000
"There were a lot of cars, but that made for a fun race," said Quintero. "I got the holeshot thanks to my BFGoodrich Tires and Benchmark. Benchmark went out of thier way to get me all tuned and dialed in the day before we had to leave for the race. Along with my new 5 stage exhaust from Trinity it gave me a head start on everyone else. I caught the line in front of us pretty quickly, but I hit a rock and blew out my wheel. I was pretty far from the pits but my Rugged Radios had no problem reaching my pit crew. I let them know what had happened and they were ready for me when I got there. The pit crew got me back on the track quickly.
"All that matters is that we finished.," added Quintero. "We knew it was going to be a tough one to win with so many cars in the class . Racing past so many cars that didnt finish really made just finishing feeling like a win"
Rough conditions were reported throughout the weekend. Dust also played a role and lack of visibility made racing difficult on the 16-mile course.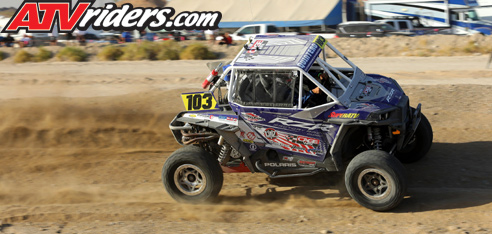 Polaris RZR Racing's Seth Quintero
"The track was so rough, but thanks to Walker Evans shocks and CageWRX arms it was a nice smooth ride for me," said Quintero. "There were a lot of braking bumps, and the ruts were really deep, but it made for a good race. I'm really happy how my Polaris RZR ran."
Quintero, along with his mother, Amy, organized an Easter egg hunt during Contingency Day on Friday. Quintero was happy to see the young racers and fans enjoy the festive event, which awarded a $100 prize to Casey Piplic, who found the golden egg in the Polaris booth.
"It was great seeing the Piplic kids win and I was glad to be a part of it," said Quintero. "I always try to give back and it was so nice to interact with the kids. The kids were all smiling and hunting for eggs."
Quintero is looking forward to getting back on track next weekend. He will be competing in the WORCS series at Sand Hollow State Park in Utah.
"I have practiced at that track in my family's four seater and it was rough," said Quintero. "It's going to be interesting going through all of those trees, but I'm pumped."
Quintero and his UTV Underground/Red Bull Polaris will be back in action in next weekend's WORCS race April 21-23.
Seth Quintero's 2017 Sponsors:
Redbull, Polaris, UTVunderground, Walker Evans, CageWRX, PRP, SuperATV, Rugged Radios, NCY, Team Associated, Active Screen Printing, Factory Canopies, Magiksc, Ripkas Equipment Repair, Alpinestars, BFGoodrich Tires , Benchmark Performance, MPI Steering wheels , Necksgen, UTV INC, Trinity