San Marcos, CA (1/26/2017) - Fourteen-year-old Seth Quintero made a strong statement by finishing seventh in his first race in a full-size UTV during the SXS World Finals. Quintero stepped up from a Polaris RZR 570 to the RZR 1000 in the SXS 1000 Stock class during the season opener for the WORCS off road series.
Polaris' Seth Quintero finished seventh in his first race in a RZR 1000
Run as a doubleheader racing weekend, the event featured a short course race on Saturday, followed by a traditional long haul WORCS off road event on Sunday. Both finishes were combined for an overall result. Weather played havoc with rain washing out qualifying on Friday, blue skies and warm temperatures on Saturday, and wintry mix with sleet and rain on Sunday.
Driving a car built by UTV Underground, Quintero was running on a waiver. Despite him being half the age of most of the rest of the field, he finished seventh overall in a field of 29 entries.
"It was a pretty big jump to go from a 570 to a full-sized race car," explained Quintero. "It felt good to be able to run with the big boys. Here it's more about the skill than the power, so it was nice to be able to run with them. It's a big honor to have WORCS allow me to race here on a waiver. I need to thank UTV Underground and Joey D. for letting me run their car. Our relationship has become like family. He's more than just a sponsor. I also want to give a big thank you to Red Bull for their help."
Quintero started well back in the field in the short course race after drawing his starting position. He ran hard, after avoiding a crash that sent him off the track he ended up finishing ninth in his first race on a Lucas Oil style track.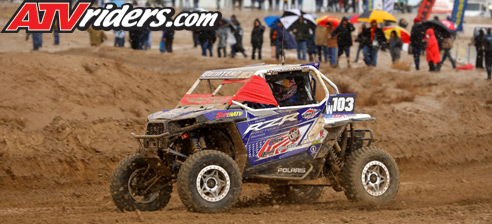 Seth Quintero worked his way up to fifth place after a second row start on Sunday.
"My Walker Evans shocks played a huge roll in the race. Along with my BFGoodrich Tires to hook up a little better in the turns," said Quintero. "This was my first time on a short course. I hope I can do more of it in the future. The suspension and tires were the most important things. Without that, I'd be spinning out left and right."
After making a tire change, Quintero started ninth in Sunday's race,. Starting on the 2nd line to take off and worked his way up to a fifth place finish.
"I stayed with the same shock set up for Sunday's race," said Quintero. "They offer a little more ride height for the longer course. It was muddy out there. I basically submerged my car. We ran really well in third, but I had to pull into the pits with a broken radius rod."
Quintero came into the event with hopes of just finishing. Scoring a top-ten wasn't even on his radar screen.
"We really didn't expect anything from this; we just wanted to finish the race," said Quintero. "We wanted to see what we were up against. I'm a 14-year-old racing a bunch of 30-year-olds getting shoved around, but it's fun to run with them."
Quintero likes the family atmosphere of the WORCS racing weekends. Along with his sponsors, he is thankful for his mother and father's support.
"I like the way the WORCS series puts on its events," said Quintero. "It's very family oriented and I like that. My mom and dad are my biggest supporters. It's so nice to walk around and see people that I know will be there for me if I need them."
Quintero is pleased to kick off the season with a strong showing. He is definitely after that first win this year. "I'm excited for the season," said Quintero. "Coming into this next round, I'm definitely looking for the win."
Quintero and his UTV Underground/Red Bull Polaris will be back in action as the WORCS series heads to Honolulu Hills Raceway in Taft, CA February 17-19th.
Seth Quintero's 2017 Sponsors:
Redbull, Polaris, UTVunderground, Walker Evans, CageWRX, PRP, SuperATV, Rugged Radios, NCY, Team Associated, Active Screen Printing, Factory Canopies, Magiksc, Ripkas Equipment Repair, Alpinestars, BFGoodrich Tires , Benchmark Performance, MPI Steering wheels , Necksgen, UTV INC, Trinity