San Marcos, CA (2/23/2017) - Quintero Racing's Seth Quintero steps up his game this weekend in the WORCS SXS 1000 stock class by taking home the third-place position at Honolulu Hills Raceway in Taft, CA. The initial event ended when a restart was ordered well into the second lap due to confusion with the course markings, but Quintero and his full-size UTV Underground/Red Bull Polaris RZR 1000 only benefitted from it.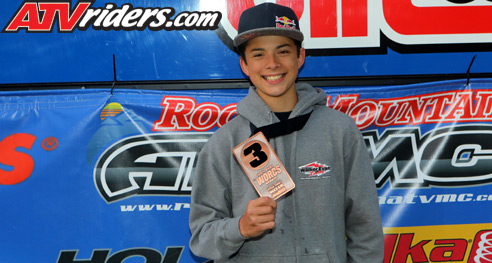 Polaris RZR's Seth Quintero takes home a third place finish in the WORCS SXS 1000 Stock Class at Honolulu Hills WORCS
"We actually had a restart off the first start. I ended up pulling out fourth and worked my way up to third then I had made a little mistake which pushed me back to fourth, but then they stopped the race and ended up doing a restart. On the restart, I ended up fifth, a little bit worse than I did last time, but when I came into the first turn I kind of had the inside line and everyone was pushing wide. I actually ended up third and chasing the leaders, then the second-place guy made a mistake and first broke, and I ended up coming into first," says Quintero.
Quintero put up a good fight against the leading pack, but a few minor mishaps dropped him out of the lead, but he held on for third.
"I was just feeling good. I ended up coming in first, but coming up over the double doubles area, right after the scoring shoot, I made a little bit of a mistake," explains Quintero. "I didn't square up too well and went off the side of the jump which moved me back to third. I tried to chase the leaders down and right at the end, I came up to second and into that first turn within milliseconds. I could have had him if there was one more lap, but it was still a fun battle. I had a really good time."
The weather was a bit of a factor for the racers this weekend, with rain all day Friday and overcast skies with spotty rain on Saturday, however, Quintero used it to his advantage with his Walker Evans shocks and BFG tires.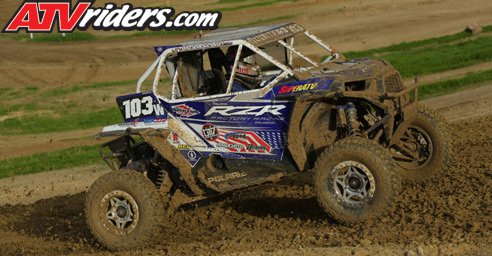 The course was a bit different due to the muddy ground conditions, but the sharp turns and massive jumps didn't slow Seth Quintero down with his BFG Tires and Walker Evans Suspension
"After all the rain Friday, I had like 20 tear offs, I was thinking that it was going be super muddy out there. But after all the quads and dirt bikes and the women's class went, it was actually pretty nice out there," explains Quintero. "Going down some of the hills there were still a couple puddles, and going over the step-up it was just a big mud fest. You just kind of had to hold your line and pray that you get over it. Thanks to my Walkers Evans Suspension, because it was so rough out there, and I was carving the mud with my BFGs, my car handled it all really well."
The course was a bit different than last year's due to the muddy ground conditions, but the sharp turns and massive jumps didn't slow Quintero down.

"Unfortunately, they cut off a little bit of the moto track due to really bad mud, but back where all the step-ups were, and all those sharp turns, it was just so much fun to carry my speed around the corners and launch those hills. It was so fun."
Quintero paid no mind when he approached Honolulu Hills Raceway's famous "step-up" jump. His UTV Underground / Red Bull Polaris RZR 1000 handled it with ease.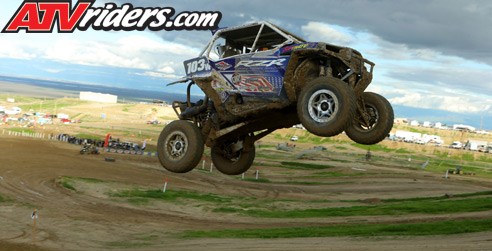 Walker Evan Racing's Seth Quintero launched the big uphill step-up jump with ease with his Polaris RZR XP 1000
"All I remember was my dad yelling 'Go! Go! Go! Don't lift! Don't lift!' Soaring over it definitely dropped my stomach, but after that first time it was fun," says Quintero.
Placing on the podium this round has really boosted Quintero's confidence in his racing ability.
"I'm pumped! Last round I was running third and then I ended up breaking a radius rod. Same thing happened to me here, but I didn't break my radius rod. It feels good to kind of prove that I do belong here and not that I just want to come race."
Quintero has quite a few sponsors that back him up and make sure that his car stays in tip-top shape.
"I just want to thanks all of my sponsors for getting me out here. BFGs hooking up good, Walkers are working great. Everything is keeping very me safe. My car just felt great."
Quintero and his UTV Underground/Red Bull Polaris will be battling it off as the WORCS series next event takes place in Lake Havasau City, AZ on March 17-19.
Seth Quintero's 2017 Sponsors:
Redbull, Polaris, UTVunderground, Walker Evans, CageWRX, PRP, SuperATV, Rugged Radios, NCY, Team Associated, Active Screen Printing, Factory Canopies, Magiksc, Ripkas Equipment Repair, Alpinestars, BFGoodrich Tires , Benchmark Performance, MPI Steering wheels , Necksgen, UTV INC, Trinity