San Marcos, CA (4/7/2017) - Seth Quintero continued his quest to take on the big boys in the WORCS SXS series. The 14-year-old driver now sits third in points after leading his first laps of a SXS 1000 Stock race during the sixth round of competition at The Orleans Casino in Las Vegas.
Quintero missed practice to allow his parents to attend the wedding of fellow former WORCS racers Mike Gardner and Danielle Weatherly. After starting toward the back of the field, he was up to third on the first lap and took the lead for two laps before a clutch issue sidelined him four laps from the finish.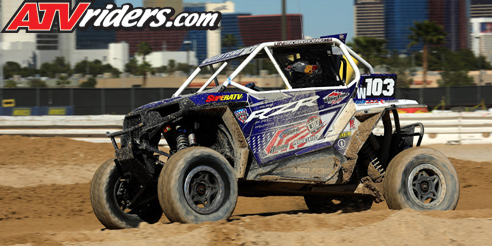 Polaris RZR 's Seth Quintero charged his way into the lead, but suffered a fluke issue, which sidelined him with a few laps to go
"I was a little nervous going into this race," said Quintero. "I've never run an arena race in a full size SXS. I ended up taking the holeshot in my row and caught third on the first lap. I took second halfway through the race, put my game face on, and I snuck by the inside for the lead."
Quintero is competing in a class that features many drivers who are twice his age. Despite the age difference, Quintero's confidence is high going into the second half of the WORCS season.
"This race definitely gave me a confidence boost," said Quintero. "Everything felt great, and I felt like I was at home on that track. Coming into my rookie year, we weren't expecting much, but we've really been blessed. We've been consistent for the most part. I have the right mindset and I'm coming in hot."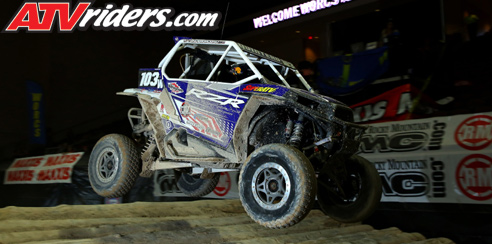 Quintero Racing's Seth Quintero is currently 3rd place in the WORCS SXS 1000 Stock Class
Quintero is now third in points, one point out of second and 27 out of the lead on the merit of two runner-up finishes and a third. Considering he will get to drop his worst finish, the points are even tighter than they look on paper.
"The race didn't put us too far back and we're going for consistency and put that car back on the box," said Quintero. "We're shooting for consistency now and we're going to have fun."
Quintero will be back in action as the series next heads to Sand Hollow State Park in Hurricane, UT April 21-23.
Seth Quintero's 2017 Sponsors:
Redbull, Polaris, UTVunderground, Walker Evans, CageWRX, PRP, SuperATV, Rugged Radios, NCY, Team Associated, Active Screen Printing, Factory Canopies, Magiksc, Ripkas Equipment Repair, Alpinestars, BFGoodrich Tires , Benchmark Performance, MPI Steering wheels , Necksgen, UTV INC, Trinity