San Marcos, CA (4/27/2017) - Polaris RZR Factor Racing's Seth Quintero continued to climb the point standings in the WORCS SXS 1000 Stock class by finishing fourth at Sand Hollow State Park in St. George, UT. The 14-year-old rising star was competing in round seven of the series.
Quintero got a great start on the tricky course. While going through the back section of the course, however, he lost the course markers and spent time having to backtrack. Once he got back on track, he climbed back through the field to finish fourth.
Polaris RZR 's Seth Quintero lost track of the course, which sent him back to 5th place in the first lap
"The track was great, and I got to the first turn pretty quickly," said Quintero. "I ended up taking a wrong turn on the course and had to battle back. In the back section, I was trying to find a faster line. We went up and over the dunes and went back into the rocks. I came back and finished a solid fourth. It was a fun race. I thought we had a car that could win, but the fourth-place finish allows us to gain some points positions. It will be close, and it will be a good battle to the end."
Quintero's Polaris RZR XP 1000 was on point all weekend. The track was rough, featuring deep sand with buried rocks, hard pack, and even asphalt. His CageWrx equipped RZR with Walker Evans Shocks and BFGoodrich tires took everything in style.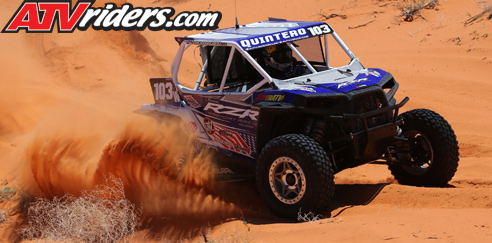 Walker Evans Racing's Seth Quintero worked his way up to 4th place by the checkered flag, which boosted him to just 9 points out of the championship points lead
"My Polaris RZR worked great today thanks to Walker Evans and BFGoodrich Tires," said Quintero. "I'm fortunate to have CageWrx. I saw a lot of people have problems with radius rods, but my CageWrx radius rods held up perfectly. Hopefully, next time I can avoid taking a wrong turn and keep up with the leaders."
Despite competing in an adult class, Quintero has had a break-out season with three podiums in seven races. He's still looking for that elusive first victory, something he hopes to remedy at the next race.
"I'm ready for the next race at Cedar City," said Quintero. "I've ridden that track a lot. It really suits my style. I like trail riding and going through the trees. We're still looking for that first victory and we're hoping to take the points lead."
Quintero will be seeking that first win as he heads to Iron Mine Racepark in Cedar City, UT for the next WORCS race May 19-21.
Seth Quintero's 2017 Sponsors:
Redbull, Polaris, UTVunderground, Walker Evans, CageWRX, PRP, SuperATV, Rugged Radios, NCY, Team Associated, Active Screen Printing, Factory Canopies, Magiksc, Ripkas Equipment Repair, Alpinestars, BFGoodrich Tires , Benchmark Performance, MPI Steering wheels , Necksgen, UTV INC, Trinity