San Marcos, CA (10/18/2017) - Seth Quintero exceeded everyone's expectations, including his own, as the teenage racer competed with drivers nearly twice his age in the WORCS SXS 1000 Stock class. In the end, he finished second in points on the merit of four podium finishes during his rookie season.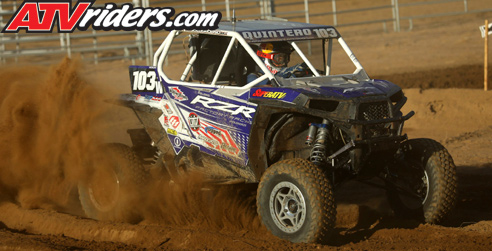 Polaris RZR's Seth Quintero finished out his rookie year in the WORCS SXS Stock 1000 class second place in the points championship
Quintero ran strong all season and was a serious contender for the championship. However, bad luck and mechanical issues at the final rounds slowed his charge. Quintero will definitely be a driver to watch in the coming years.
"It was great to come out second in my rookie year and run with all the big boys," said Quintero. "Unfortunately we lost a ball joint at Glen Helen which moved us back. In the last race at Adelanto, I got a slow start and had to work my way through the field. It was a good year and I'm proud of myself."
Not only was it Quintero's first season in SXS 1000 Stock, it was also his first season racing a full-size UTV. Despite that, he never backed down and never once made an excuse. He just tried to get better every race.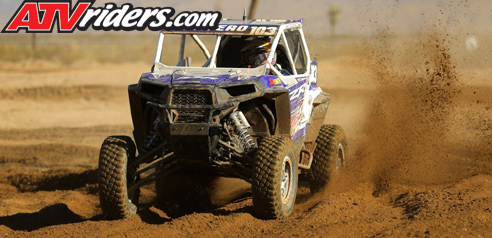 Walker Evans Racing's Seth Quintero is currently leading the AMA District 38 points
"Hopping from the 570 to the 1,000, I remember my first race I told myself if I finished last, oh well," said Quintero. "I ended up fourth with no seat time. I pushed myself, got a couple of podiums and had some misfortunes, but that's racing."
Quintero is just 14 years old and is already competitive in a field that is dominated by adults. He came into the season with low expectations. However, as he continued to experience success, he kept pushing himself.
"My parents and I had a long talk before the season and we decided we wouldn't expect much for my rookie season," said Quintero. "We're pumped at how this year turned out. Thank you to UTV Underground and Mad Media for letting me use their car all year."
Though the 2017 WORCS season is over, Quintero isn't finished yet. He is currently leading the points in AMA District 38 and will attempt to clinch that championship. He also plans to return to WORCS and run a few Best in the Desert Series events next year.
Quintero next heads to Plaster City, CA for the next AMA District 38 race. That event is scheduled for October 21.
Seth Quintero's 2017 Sponsors:
Redbull, Polaris, UTVunderground, Walker Evans, CageWRX, PRP, SuperATV, Rugged Radios, NCY, Team Associated, Active Screen Printing, Factory Canopies, Magiksc, Ripkas Equipment Repair, Alpinestars, BFGoodrich Tires , Benchmark Performance, MPI Steering wheels , Necksgen, UTV INC, Trinity