Corona, CA (9/20/2017) - STI's newest and strongest beadlock wheel line just got larger - and wider! STI introduces HD9 Comp Lock beadlocks in 10-inch and 8-inch widths for sand dune enthusiasts. The new deep-dish 14x10 and 14x8 inch wheels are perfectly suited for today's wide-profile sand tires - like the Sand Drifter tires - helping riders get the best dune-riding flotation and power transfer to the sand.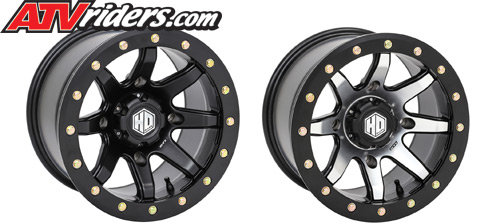 New STI HD9 Comp Lock Beadlock Wheels
​Just like the 14x7 HD9 wheel, the new sizes are built for performance and strength, and look great with a classic 8-spoke design. All HD9 wheels use a 10mm thick beadlock ring secured by 5/16-inch grade-8 hardware for strength. The HD9 Comp Lock is available in two finish options, Matte Black and Matte Black / Machined. Each new wheel includes a pre-installed valve stem with a black sleeve and matching cap.
Suggested retail prices:
14x8, $155.49
14x10, $167.25
About STI Tire & Wheel
STI Tire & Wheel designs and manufactures tires, wheels and tubes for owners of off-road motorcycles, UTVs and ATVs. Launched in 2010, STI is lead by powersports industry veterans with a deep understanding of the needs of off-road enthusiasts. STI Tire & Wheel products are available at motorcycle and ATV retailers nationwide, online and at select powersports events.