Las Vegas, NV (9/29/2017) - STV Motorsports' Andrei Isac took third in the Silver State 150 UTV race in Caliente, NV, which was part of the Best in the Desert series.
Isac had his work cut out for him, but managed to put the Yamaha out front once again while he charged hard for a top three finish. Isac's Yamaha YXZ 1000 R ran flawlessly. Isac pushes the Yamaha to its limits each round on the brutal courses thrown his way, and the machine continues to perform each weekend.
STV Motorsports' Andrei Isac scored a third place finish in Pro Production 1000 class at the BITD Silver State 150
"The car ran perfect. We never had an issue; everything was smooth. The motor and tranny in these cars are unbelievably good. We keep running the same engine over and over without doing anything to it. They are running really strong and we are really happy," explained Isac.
Isac's solid Yamaha machine in combination with a great course led to a successful day for the STV team. "The race course was really good. It was a little choppy in the beginning, but our STV Motorsports long travel suspension soaked it up and worked great," said Isac. The course was 150 miles long with nearly 60 miles of it very tight, narrow, technical trails.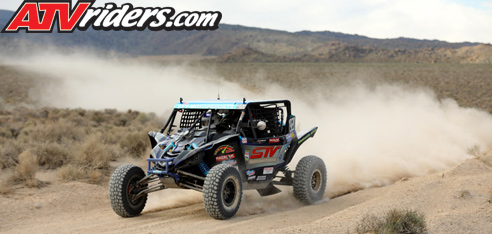 STV Motorsports' Andrei Isac has put the Yamaha on the BITD Podium twice this season with a win at the UTV World Championship
Heading into the next round of racing, Isac is full of optimism and drive to reach the top of the podium. "We are really excited to put the car on the podium and hopefully get first on the next race," stated Isac.
The Best in the Desert series will next head to Tonopah, NV for the VT Construction Tonopah 250 on the weekend of October 19-22nd.