Las Vegas, NV (1/24/2017) - STV Motorsports driver Nic Granlund won the Pro Stock portion of the WORCS SXS World Finals in Primm, NV, and Multi-time WORCS SXS champion, Doug Eichner, finished in fifth as the pair showcased the power and speed of the Yamaha YXZ 1000R in the unique SXS-only event.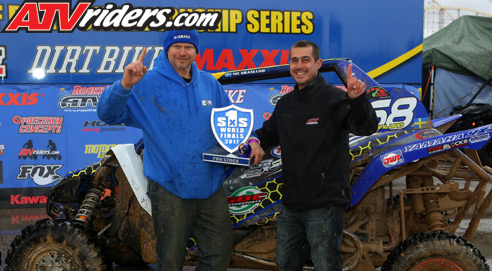 STV Motorsports' Nic Granlund Scores Pro Stock Overall Win at WORCS SxS World Finals
The season opener was a doubleheader over two days. Saturday's race was a short course event run on the Lucas Oil Track and Sunday featured a traditional WORCS off road course. Weather conditions changed throughout the weekend with rain canceling qualifying on Friday, blue skies on Saturday, and winter conditions with wintry mix and cold temperatures on Sunday.
Nic Granlund started 13th in the short course race, and quickly picked his way through the field. He finished second. "Right off the start, I made some moves," said Granlund. "These type of courses are perfect for the Yamaha because we carry more speed through the turns. Once I got into second, I made some moves on the inside, but I didn't want to tap the leader. I was right there with him, but I didn't want to wreck him to win."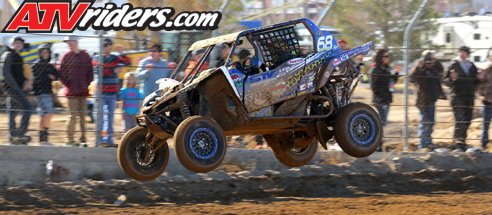 STV Motorsports' Nic Granlund Launching his Yamaha YXZ 1000
In Sunday's race, Granlund fought off challenging weather conditions to record another runner-up finish. The combined finishes handed him first overall in Pro Stock. "The car ran perfectly all weekend," said Granlund. "The Yamaha was really ripping this weekend. I just set a good pace and tried not to make a mistake or crash."
Granlund is driving a brand new car built by STV Motorsports. Interestingly, the Yamaha is running a stock engine with only minor tuning and exhaust work.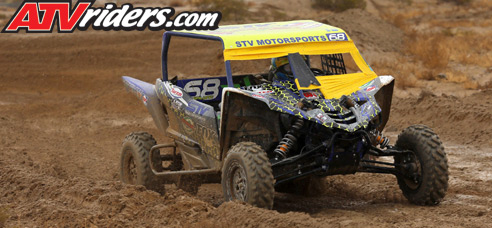 Nic Granlund finished in the 2nd spot both days for the Pro Stock SxS Overall Win
"STV Motorsports did a full cage build to strengthen the car," said Granlund. "We have a Rev-up Graphics wrap. I'm back with Lonestar Racing and their A-arms make the car work really well. The Fox shocks they are dialed in. We do our own valving specs and spring rates. The GBC Mongrels and DWT Wheels did really well. George White's Double E Racing Swaybars kept the car flat in the corners. The Hess Motorsports' Steering stabilizer and radiator kept the car cool. The engine is perfect right out of the box, so we only needed to reflash the computer and use an aftermarket exhaust."
Eichner had to work for his fifth-place finish. In the short course race, he started 27th. He finished third, just behind Granlund. After a crash during Sunday's race, he held on for 12th.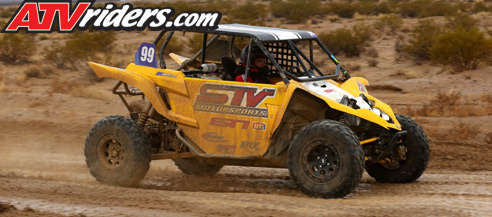 STV Motorsports' Doug Eichner finished third on Saturday in the Pro Stock
"STV has been a huge help for me," said Eichner. "They built the cage, the steering rack and the seat. Any advantage you get is going to come from building it right and STV has me covered. The STI Tires worked really well out there. I had plenty of traction and the car was hooking perfectly."
STV Motorsports racers will be back in action as the series holds its next SXS race February 17-19 at Honolulu Hills Raceway in Taft, CA.