Las Vegas, NV (4/7/2017) - STV Motorsports' Nic Granlund finished third in the Pro SXS race at the WORCS series event at The Orleans in Las Vegas. Granlund has now driven his Yamaha to a podium finish in each of the two Pro races he's contested this season.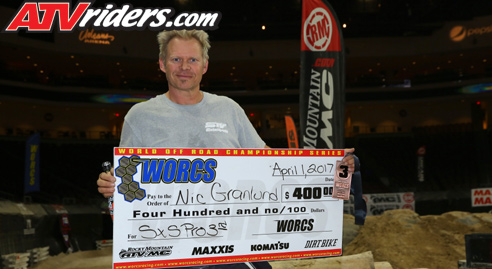 STV Motorsports driver Nic Granlund scored a Podium finish in the his 2nd straight WORCS Pro SXS Race
The special event was held in the arena and parking lots surrounding The Orleans Casino. The unique course featured varied terrain that included hard-packed dirt, metal ramp jumps, pavement, a log section, a sand pit and even a big air jump inside in the arena.
In the Pro race, Granlund survived the battle of the fittest to earn the third-place result. With all of the carnage in the race, he definitely earned it, driving a naturally aspirated Yamaha.
"The first two laps were like bumper cars," explained Granlund. "Everyone was hitting each other, spinning out, hitting me, people going over tires, cars flying, parts flying; it was mayhem out there. I just kept it clean and used a lot of inside lines. I was going up against turbo cars and built motors out there and I finished third."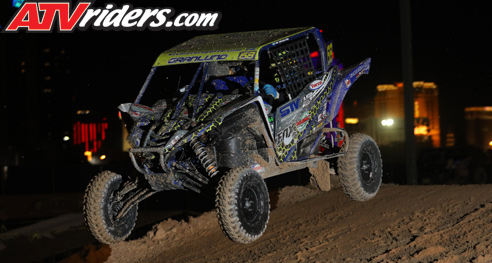 STV Motorsports driver Nic Granlund charged his way from the back of the pack to a 3rd Place finish in the Pro SXS Class
Setup was the key for this race. With no data upon which to rely, Granlund's STV built car was dialed in from the start.
"My Yamaha was working great," said Granlund. "The Fox Shocks allowed me to flat line it through the jumps, kind of like Robby Gordon doing some super truck racing. My GBC Tires worked great on the dirt and the pavement. We tried out some new DWT Wheels. They were a lot lighter so they had less rotating mass."
Steering was important, especially in the areas that transitioned between dirt and pavement. The STV Motorsports steering components shined in the event.
"Andrei Isac with STV has my steering dialed in with the billet steering rack," said Granlund. "The cage is strong and really stiffens the car."
Isac was pleased with Granlund's result. He is using the racing effort to keep improving his parts. "We work a lot to dial in these Yamahas," said Isac. "We made the parts better and this is the result."
Granlund will be back in action as the series next heads to Sand Hollow State Park in Hurricane, UT April 21-23.