Las Vegas, NV (4/27/2017) - STV Motorsports' Doug Eichner drove his Yamaha to a third-place finish in the SXS Pro Stock class during the WORCS race at Sand Hollow State Park in St. George, UT. Eichner earned his third podium of the season.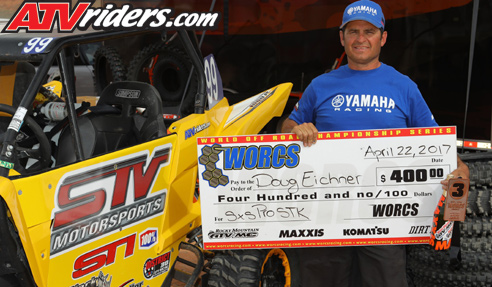 STV Motorsports driver Doug Eichner scored a Podium finish in the SXS Pro Stock Class at the Sand Hollow WORCS
Sand Hollow is known for being the most beautiful race on the WORCS circuit. It's also the most difficult. With deep sand whoops hiding jagged rocks, the race was definitely a challenge for both drivers and their machines.
Eichner dominated the start, snagging the holeshot and leaving the rest of the field in his dust. Though he lost the lead on the first lap, he held onto second for most of the race, only losing the spot on the final lap.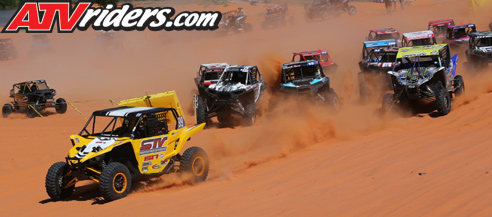 STV Motorsports Doug Eichner grabbed the Pro Stock SXS Holeshot
"The STI Tires and Wheels got me the holeshot big time," said Eichner. "I just ruined those guys. I ran the STI Chicanes and they worked great as always. On the last lap I took a wrong line and lost the spot. I tried to set him up going down the hill and he shut the door on me. The Yamaha worked great today with the Fox Shocks and STV Bulletproof steering rack."
Setup was key here because track conditions change nearly every lap. Eichner relied on his Fox Shocks to get the job done.
"The course was really rough, so the Fox Shocks got a workout," said Eichner. "The sand is really unforgiving and it can bite you. You really have to keep up your momentum."
Eichner relies on STV to make sure his Yamaha is race ready for every event. That was key here as Eichner had a quick turnaround from last weekend's UTV World Championship in Laughlin, NV.
"STV is really important to my program," said Eichner. "Andrei is going to prep my car in Las Vegas and I can pick it up for the next race in Cedar City. Him and his guys prepping the car is key to getting the car into race condition. "
The STV Motorsports racers will be back in action as the series next heads to Iron Mine Racepark in Cedar City, UT May 19-21.