Las Vegas, NV (5/25/2017) - STV Motorsports' Nic Granlund scored his fourth WORCS SXS Pro Stock Podium of the season, finishing third at Iron Mine Race Park.
Taking on the challenging Iron Mine Race Park track, Granlund overcame everything the track threw at him. With a mix of hard pack, sand whoops, big and long air jumps, a motocross track and an endurocross section, Granlund was quick all weekend.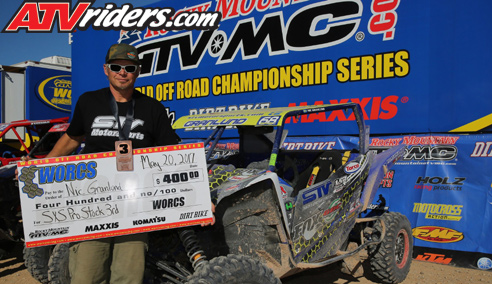 STV Motorsports' Nic Granlund claimed his fourth SXS Pro Stock Podium at Iron Mine WORCS
With dusty conditions prevailing at race time, Granlund drove a smart but competitive pace. He bicycled his ride once early in the dust and was moving through the field, ready to challenge for the lead. While running in the motocross section, an axle let go and Granlund fell to third at the finish.
"It was definitely an exciting race," said Granlund. "I was just trying not to crash in the dust; I had a pretty gnarly get off and almost went over. I was keeping up with the leader, but on the last lap I broke a front axle. I slowed down a little and the car was really squirrely. So here I am with another podium in a Yamaha."
STV Motorsports' Nic Granlund has finished six times on the WORCS Pro Podium combined between the the Pro & Pro Stock class
Granlund has been running an abbreviated WORCS season this year, driving the new Yamaha. STV has been developing the car all season, as well as prepping cars for Granlund and Doug Eichner. After making some big changes early on, including adding its steering rack, rollcage and other hard parts, STV is now down to just minor tweaks. The ride has been competitive all year.
"A shout out to Andrei at STV Motorsports," said Granlund. "Michah spent some late nights prepping the car. We're just perfecting what we have."
Granlund will be back in action as the series next heads to Glen Helen Raceway in Devore, CA June 16-18.