Las Vegas, NV (6/21/2017) - STV Motorsports' Nic Granlund won both the Pro Production and Pro Stock races during the WORCS Championship races at Glen Helen Raceway in Devore, CA. Granlund also handed Yamaha its first sweep for the YXZ 1000R and its first victory in the Pro Stock class.
With temperatures in the high 90s all weekend, Granlund had the conditioning and the car to beat in both classes. The track featured Glen Helen's world-class motocross track, as well as an endurocross section and narrow off road areas.
STV Motorsports' Nic Granlund claimed both the SXS Pro Stock & SXS Pro Produciton Wins at the Glen Helen WORCS
In the Pro Production race, Granlund was driving a Yamaha outfitted with Packard Performance's trick supercharger setup. Granlund clearly wasn't low on power as he ran away with the event from the second row and won on adjusted time.
STV Motorsports' Nic Granlund claimed the Pro SXS Win with adjusted time from the second row
"Having the Yamaha, we backed down the power a little bit, but we're still just as fast as the Polaris turbos," said Granlund. "We wanted the car to be reliable and it was. Packard has backed down the power for reliability, but we still have some tuning to do and the car should be even faster at the next race."
In Pro Stock, Granlund tracked down the leader early and challenged him throughout the early laps. Then he struck when the leader went wide in a turn. From there, he ran unchallenged to score his second victory of the weekend.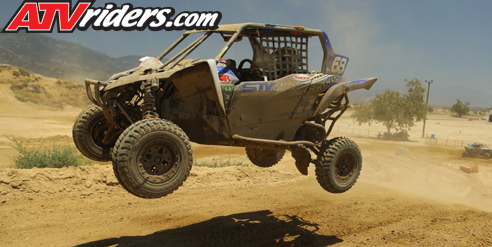 STV Motorsports' Nic Granlund charged his way into the lead in the SXS Pro Stock class to take the win, which moves him into 4th place in points
"I was right on him when we go into the lappers and then he made a small mistake and I took the lead," said Granlund. "It was a great weekend. I'm just super stoked. I'm surprised there aren't more Yamahas out there. We have them running well."
STV Motorsports built the cars for Granlund at the beginning of the season. The team has prepared his cars for each race and continues to develop the competitive package.
"Andrei from STV has been great," said Granlund. "Lately, we haven't needed to do too much because he built such a great car at the start of the season. The steering rack has taken some serious abuse and the cage and the chassis is holding up great. The Yamaha is the most competitive SXS out there and we're expecting more people to run STV-prepared cars next season."
WORCS now heads into its annual summer break. The series will return to action at Glen Helen September 8-10.