North Las Vegas, NV (1/31/2017) - Gold Speed Tires' Ty Sanders had a productive weekend during round two of the WORCS Series in Primm, NV. Sanders overcame a hard crash to win the Open A race and finished fourth in Pro Am.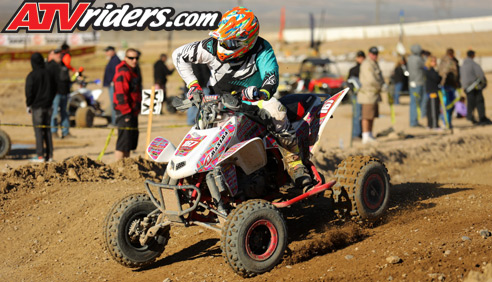 Goldspeed's Ty Sanders claimed first place in Open A at Round 2 of the WORCS Series
On Saturday, Sanders charged his way through the pack to take battle for the lead when he flipped his Honda after colliding with another competitor during the Open A race. Despite having to flip his ATV back onto its wheels, he held onto the lead and won by over 20 seconds.
"He got underneath my nerf bar and ended up flipping us both on our heads," said Sanders. "I got back upright, took off and managed to stay in first place. We finished first overall and first in class.
Still hurting from Saturday's crash, Sanders ripped off the holeshot in the Pro Am race and led several laps before fading toward the end. He finished fourth.
"The Art Works engine started on the first kick and we had a great start," said Sanders. "I led for quite a while, but my back and neck were injured in the crash on Saturday and they started stiffening up. I was doing my best to breath after my back started hurting. We didn't get the finish we wanted, but at this point we're salvaging points. We stayed in the top three in points so we'll go to Taft and get it back on the box."
Sanders results were indicative of just how competitive Gold Speed Tires are. He was also pleased with the extra horsepower provided by Art Works.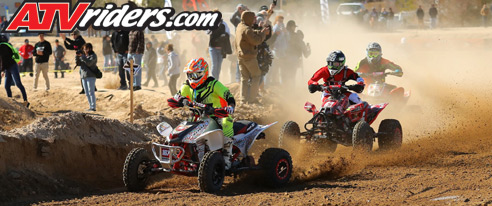 Art Works' Ty Sanders grabbed the Holeshot in the Pro-Am class
"The Gold Speed tires got me a holeshot in Pro Am and helped me stay at the front in Open A," said Sanders. "The Art Works engine kept us on top in both races. The power was amazing on both bikes. They helped us keep on top of the deep stuff throughout the weekend."
Sanders will be back in action as the WORCS series next heads to Taft, CA February 17-19.
2017 Ty Sanders Sponsors:
ART WORKS, ODI Grips, Goldspeed Tires & Wheels, Tire Blocks, SSI Decals, FMF, Maxima Racing Oil, Renthal, EKS, Fasst Co, Ride Now Powersports, Artistic Powder Coating