North Las Vegas, NV (10/18/2017) - Goldspeed Tires' Ty Sanders won the final race of the WORCS Open A ATV racing season and clinched the championship at Adelanto Stadium in Adelanto, CA. Sanders ran Goldspeed's GPS Gravity tires on his Honda to help with the deep sand and silt beds.
Sanders took the holeshot, one of many he won this year, and held the lead for the first lap. He lost the lead briefly in a corner before retaking it for good and scoring his fourth victory of the season.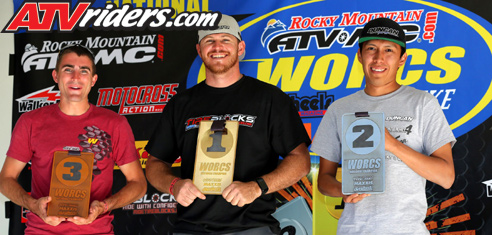 Goldspeed's Ty Sanders claimed first place in Open A at the WORCS season finale to clinch the championship
"We were nervous coming into the weekend because we knew we had to win to clinch the championship," said Sanders. "We did all we could do and laid it all out there today. I took the holeshot, but I blew a corner and ran around in second for about three-quarters of a lap. I got back around the leader, put my head down and just pushed. I knew I had to win, that second wasn't going to cut it today."
Sanders multiple holeshots this season are a testament to his tires and engine work. Along with Goldspeed Tires, he runs an ART WORKS engine.
"We're still running Goldspeed's GPS Gravity Tires," explained Sanders. "They are a little wider and helped us to keep on top of the sand. The Art Works Power is just phenomenal. We let go of the clutch and it just goes. We've had a lot of holeshots this year."
ART Works' Ty Sanders grabbed the Open A Holeshot
Sanders overcame injuries sustained at the beginning of the season to clinch the title. He appreciated WORCS summer break and used it to recover for the end of the season.
"I messed up my knee, got a concussion and hurt both of my ankles coming up short on a double," said Sanders. "It seems like I had an endless streak of injuries at the beginning of the year. So the long break during the summer really helped me.
Sanders was just happy to be able to race at the season finale. Sanders was attending the concert during the Las Vegas mass shooting. He survived unscathed, though he is still recovering emotionally.
"I did everything I could to block it out, but it's still there," said Sanders. "Sirens still mess me up. Bangs and pops make me a little skittish. But when I got back on the bike, I had to block it out and do the job I had to do."
Sanders will return to WORCS next season to defend his title. The 2018 WORCS season kicks off February 2-4 at The Orleans in Las Vegas.
2017 Ty Sanders Sponsors:
ART WORKS, ODI Grips, Goldspeed Tires & Wheels, Tire Blocks, SSI Decals, FMF, Maxima Racing Oil, Renthal, EKS, Fasst Co, Ride Now Powersports, Artistic Powder Coating