David Martinez Switches to Polaris for 2017 BITD Season
David Martinez Races UTV Inc.'s Polaris RZR at Parker 250
Newport Beach, CA (1/14/2017) – David Martinez made his debut in the Pro Turbo UTV class at the Parker 250 Best in the Desert season opener. For 2017, Martinez has dramatically changed up his racing program by switching to the factory Polaris team and joining forces with UTV, Inc. to compete for the highly competitive Pro Turbo UTV Championship.
With the help of 2015 BITD UTV Grand Champion, Johnny Angal and UTV, Inc. David Martinez is planning a full-on assault on the Pro Turbo Championship. He actually competed in Angal's personal Polaris RZR Turbo at Parker and will debut his own UTV, Inc. 2017 RZR at the Mint 400.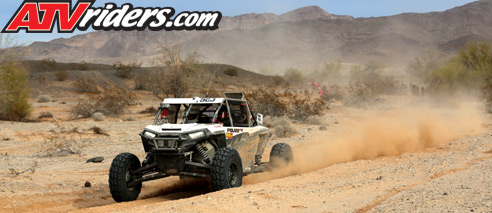 For 2017, David Martinez has switched to the Polaris RZR XP Turbo along with UTV Inc.'s Johnny Angal to build him his new race car for the the 2017 BITD Series, but he raced at the Parker 250 in Angal's RZR while his new car is still being built
"It is so awesome to join the Polaris family of champions where I can surround myself with such a group of talented racers and proven machines," said Martinez. "The UTV, Inc. car on race day was setup exactly the way I had envisioned it to be. I had never even driven a Polaris before belting in at the start. Coming into the race, I put all my trust in Johnny's reputation and knowledge of the car and it was more badass than I could have ever expected. I was astounded at the level of the car, I was completely blown away. It was comfortable, fast, handled great, the shock tuning & suspension was on the next level, let's just say it doesn't like to be driven like a sissy.
"We were passing cars on the first & second lap like they were standing still. We passed many top drivers and teams that had started on the first few rows. I can't begin to tell you how badass it felt to be passing them after we started 39th almost last off the line," added Martinez. "To switch to a new car manufacture and a new race team and to be that comfortable driving at that level and those speeds thru some of the harshest and fastest sections in a car I have never stepped foot in was truly something I've never experienced to this point. Polaris is the most race proven vehicle in the market hands down and that's why they are such a dominant force in the UTV industry."
ITP / FOX's #923 David Martinez
Martinez had a great run from the back of the pack going all day, until an issue at the end of his second lap would only enable him to get the finish, grab some early on needed season points and move on to fight at the next round in Las Vegas. Martinez is no snowflake when it comes to the competition. He is here to win and win big.
"When we decided to make the switch from WORCS to BITD last year, we tried to put together some good finishes and wins and we did," said Martinez. "We want to race to win not to just finish" yes I know it's part of the whole picture as you can't win if you don't finish, but we are coming for one purpose and that's to drive relentlessly for wins with intensity and speed every race. Trust me when I tell you we will be pushing the limits every time we strap into UTV Inc.'s Polaris race car. I am here to compete with the best of the best at the highest level of UTV racing. I went into the Pro Turbo Class for one thing and that's to push myself, my team, and my race car on to the podium by all means necessary."
Martinez added, "We are beyond excited to be teamed up moving forward with the best manufacture, builder and team in the business. I feel they will give us the greatest opportunity for success on and off the track. Polaris Team RZR and Johnny don't just race to finish or just to compete, these programs race to win every time they strap into a vehicle with no compromise or excuses. That's the philosophy I believe in and follow. I want to win and will do whatever it takes to get there, so of course I went with the best Team in the UTV industry Polaris Team RZR and UTV, Inc."
Martinez will be in his brand new Polaris RZR XP 4 Turbo when the BITD Series heads to Las Vegas on March 2-5 for the legendary Mint 400.
David Martinez 2017 Sponsors:
Polaris, UTV.Inc, Fox, ITP, Motul, Gates Performance, Shock Therapy, Rugged Radios, K&N, Hmf, Beard seats, Pyrotect, Shorai, Axia Alloys, Action Sports Canopies, Amr, Kc Hi Lites, Dasa, Summers- Bros, Streamline, UTVUnderground, Pirates Cove Resort, Giant RV, Attitude Trailers, Anenberg, Pro Eagle, Jaz Products, Monster Seal, GatorWraps, Factory UTV, ATVriders.com