Shelbyville, TN (9/28/2017) - After a much depleted Unadilla race, the team were back to full strength with all of their machines and racers as UTVs are back in action! Marvin's Mountain Top of West Virginia welcomed Team UXC and the racing nation family. The weather was hot and there wasn't a sign of rain anywhere, which was thankful given the rocky nature of this track. Early track walks showed that the boulders and rocks were still big, the dust was going to be a factor and it was going to test rider and machine to the limit.
UTV Racing
Three rounds are left in the UTV series and with 3 manufacturers in the mix, it was still open for fighting. After racing consistently in the first half of the season, Michael Swift started on row 2 and Kevin Trantham just behind on row 3. Swift was in the mix from the outset, but you could see dust was making it hard to stay close. In contrast, Trantham was able to make a sharp move shortly after the start that put him out front early and importantly clear of the dust. Both Swift and Trantham were pushing their cars hard and it was evident the hard work put in with Teixeira-Tech to develop the chassis components was paying off. The RZR 1000XP was making light work of the rock gardens yet handling the fast turns with precision.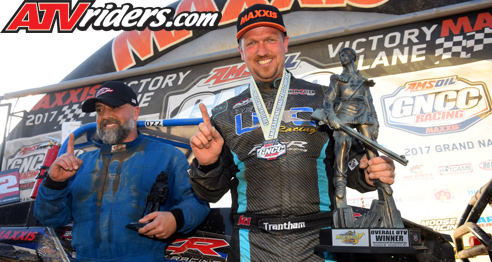 UXC Racing's Kevin Trantham Takes First GNCC Pro UTV Win
Around midway through the race, Swift and Trantham were battling each other hard for position. With adjusted time, Trantham was running 2nd and Swift 4th. This continued for most of the second half of the race until a technical issue forced Swift to back off and preserve the car. Trantham continued to push the pace until the finish. When they UTVs crossed the finish line it looked like Cody Miller had taken the overall. However, Trantham had chased down so much time, it was to be his and the Polaris RZR's day.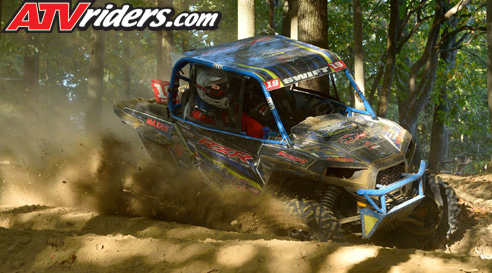 UXC Racing's Michael Swift finished 6th Overall
After the race, Trantham was ecstatic with his race win and attributed it to the often endless hours of work put in to develop the machine with Michael Swift and Team UXCs sponsors. He said "Everything came together today; the chassis, motor, wheels and tires all worked seamlessly and perfectly". Team owner, Swift, said "We knew it was going to be challenging this year, but we also knew we could put a Polaris RZR back in the center of the box".
Single Seat UTV Ace's
It was to be a tough race in the rocks as the Single Seat's took on Marvin's Mountain Top for the first time since GNCC welcomed them. The GNCC track team had laid out a great and varied track that included much of what the property had to offer. 10 machines lined up ready to tackle it and both Jesi Stracham and Becky Widdicombe got off the line well. Stracham made her usual lightning fast start and put her machine in 2nd.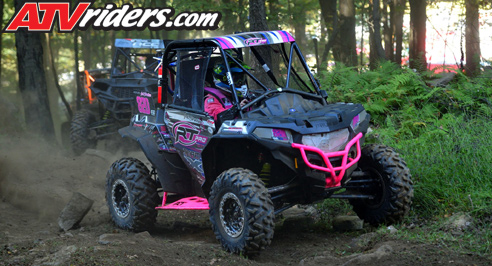 UXC Racing's Jesi Stracham
However, the course was cut a little too tight for the wider XC and she clipped her rear wheel on lap 2 causing too much damage to continue. Widdicombe was running well in 4th but it would be a racing incident that unfortunately resulted in damage making it unwise to continue. She managed to complete the lap, doing enough to secure 6th overall.
ATV Racing
Once the dust had settled from the Single Seat UTV race, the flag dropped and the morning ATV race was underway with the Pro 4x4 class out front. Cunningham took an early dust free lead and set a blistering pace well ahead of Buckhannon. They looked to be comfortably ahead, but none had counted on the pace set by Kevin Trantham and Michael Swift. With each lap, both were making passes up towards the front until an unfortunate accident left one of the Pro 4x4 riders pinned under his machine. Swift was right behind him when it happened and leapt from his bike to help. It set Swift back a bit in his race, but he was just doing what any other rider would have done.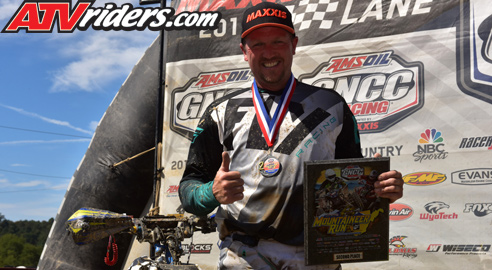 UXC Racing's Kevin Trantham finished 2nd in the Pro 4x4 Class
Ahead of the incident, Trantham had chased down and passed Buckhannon. He had Cunningham in his sights and closed the gap right down to 3 seconds. Some smart play by Cunningham put lappers in between them and allowed Cunningham to gap Trantham. He would take first today with Trantham coming across the line in 2nd. It was some great, close racing and showed the strength of the Polaris motor, RCV axle and Maxxis tires combination.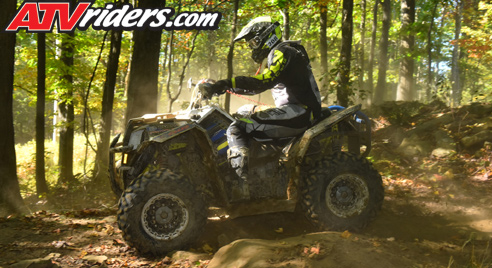 UXC Racing's Michael Swift
4x4 A rider, Josh Day, had a great day, finishing 6th in class and 38th OA. Graham Widdicombe put it on the podium again with a 2nd in class in 4x4 Senior and 41st OA. Nic Snyckers also had a good race with a 3rd in the same class. Youth rider, Tayton Swift, had a tough day resulting in a 5th place after running 1st until a collision with another rider left him stuck in 1st gear and with a puncture. He did well to finish and recover some points. Of special mention is an independent rider; Austin Parks. He moved over to a Polaris Scrambler from a Can Am over the summer break and put his machine on the podium in 2nd in 4x4 A. Well done Austin!
That was the Team UXC Mountaineer race weekend. Some excellent highs, frustrating lows and plenty of reminders as to what's truly important in life. But then, that's racing!! See you in OH for more UTV and ATV racing.
Team UXC Racing is sponsored by:
Airdam | Alco Cleaners | All Balls Racing | Bair's Powersports | Big Gun Exhaust | Carbo Rocket | Carmichael Training Systems | Cool-It Thermo Tech | Custom Axis Shocks | Dirt Works Motorsports | DP Brakes | Evans Cooling | FPS Racing | Fasst Company | Fly Racing | Hilliard | K&N Filters | Leatt | Maxxis Tires | Motion Pro | Ogio | OMF Wheels | Polaris Engineered Lubricants | Polaris Factory Racing | Polaris Power Generators | Quad Logic | Quad Tech | RCV Performance | RT Pro | RZR | Ricochet Off-Road Armor | Rigid Industries | Rox Speed FX | Securadyne Systems | Scott Goggles | Spider Grips | SSI Decals | STM Powersports | Team | Teixeira Technology | Tire Balls