Sam Rowe Takes ProAm Win at Spring Creek MX
Vossman Motorsports' Johannah Vossman Makes Return to Racing
Millville, MN (7/9/2017) - Tommy Vossman, Sam Rowe and JoHannan Vossman continued their competitive season as the Amped Vossman Motorsports team competed in the AMA Pro ATV National Championship race at Spring Creek MX in Millville, MN season.
Rowe thrilled in his best Pro-Am race season. Rowe took two holeshots, finished second in both motos and snagged the overall victory. After testing his Motowoz suspension during the event, his quad was perfect on the rough course, resulting in the victory that boosted him to fourth in points.
Amped / Vossman Motorsports' Sam Rowe secured his first Pro-Am Overall Win of the season at Spring Creek MX
"I've been chasing it all year and things just hadn't gone my way," said Rowe. "I just felt solid all weekend. We did some shock testing and that was really the key to my success. My bike worked really well on the demanding track. I was able to ride my own race and put together two solid motos. We were using a brand-new Motowoz setup and it worked flawlessly."
Rowe dedicated his victory to youth rider Kyler Lenz, who lost his life during the event. He celebrated with Kyler's father, Kevin, on the podium, as well as Kyler's best friend Nick Vallone.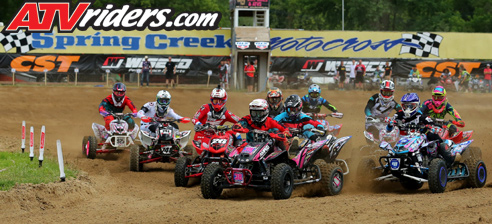 Amped / Vossman Motorsports' Sam Rowe grabbed both Pro-Am Holeshots
"I wanted to make it up there for him and I was able to get it done," said Rowe. "With everything that has happened, he and his wife, Nicole, could use all of the love the ATV community can provide them. I was just getting to know Kyler and we were working with him at the track. It was really sad what happened."
Rowe also finished 10th in Pro, scoring 10th and 11th place moto finishes. It marked his third consecutive top 10 and moved him to 10th in points.
"That's what we need," said Rowe. "My goal was to be in the top ten and get up and mix it up with those guys. I felt good all day. We'll stay at it, stay working and get some good riding in before Unadilla."
Baldwin / PEP's Tommy Vossman had an off weekend, finishing 7th and 8th, respectively in Production A and 450 A. He is currently fourth in both points championship, and is looking to get back on track at Unadilla.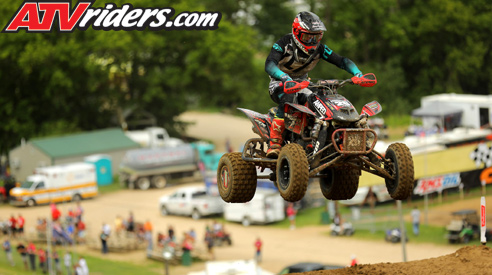 #26 Tommy Vossman
"Spring Creek was challenging," said Vossman. "I just had an off weekend, but we learned a lot and we'll get ready for Unadilla. My season was going great before this weekend. We're going to do everything we can to finish in the top three in points."
PR2 / Motowoz's JoHannah Vossman returned to action this weekend after a several broken vertebrae sustained in a crash at Ironman sidelined her for two races. Before her injury, she had won every overall in both Schoolgirl 13-17 and WMX.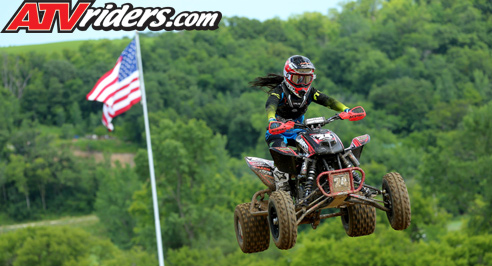 #24 Johannha Vossman made her return to racing after a missing several rounds to recover from a serious wreck at the Ironman MX
"I broke 10 different processes throughout my thoracic and lumbar sections of my back," said Vossman. "Recovery was hard and I am very lucky to be walking. With braces, I came back a little early and I'm still looking for championships. It's going to be a lot harder, but we're doing the best we can."
In WMX, she recovered from a crash on the first lap of the first moto to finish 10th. She backed that up with fifth-place finish in the second moto. She finished eighth overall.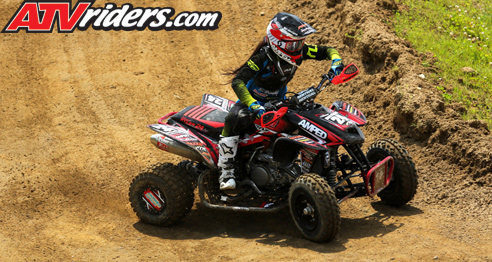 #24 Johannha Vossman finished 8th Overall in the WMX Class
"There was a huge pileup at the start," said Vossman. "It was scary for me. I was not expecting to have my first crash this soon. I got up, I got back on and I finished the race. We left uninjured and it was good to be back."
In Schoolgirl, Vossman scored two second-place finishes and was scored second overall. She actually pulled the holeshot in the second moto. The runner-up finish places her third in points.
"I'm happy with that finish," said Vossman. "This still puts us in good position in points. I just rode my own race, stayed smart and tried to keep it on all four wheels."
The Vossman team will be ready for action as the ATV Motocross Series next heads to Unadilla MX Park in New Berlin, NY July 15-16.