Vossman Motorsports Makes Debut at Daytona ATV SX
Vossman Motorsports' Team Ready for 2017 ATV MX Season
Daytona, FL (3/16/2017) - Tommy Vossman and Sam Rowe debuted its new Vossman Motorsports Racing team during the Daytona ATV Supercross, the opener for the 2017 AMA Pro ATV Motocross season. The Vossman Motorsports team is fielding three Baldwin/Maxxis Hondas for Vossman and Rowe, as well as Johannah Vossman, who was injured in an offseason accident and missed the Daytona round. Also, former Pro motocross racer, Nick Moser is the team manager.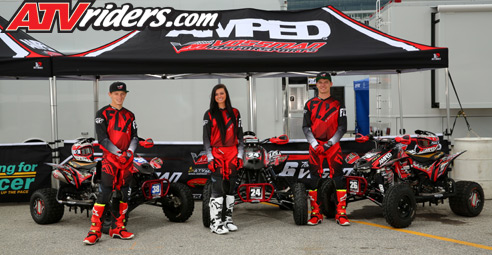 Vossman Motorsports Racing Team (left to right)
Sam Rowe, JoHannah Vossman, Tommy Vossman
Tommy Vossman finished fourth in Production A and third in 450 A. The Daytona event didn't award amateur points, and Vossman was happy with his results.
"It's the first round and there were no points for the amateurs so we'll take it from here," said Vossman. "Our starts could have been better, but we'll go home and work on it. The new team is awesome and everything went smoothly this weekend. Nick Moser is wrenching for us and I'm stoked with the new setup."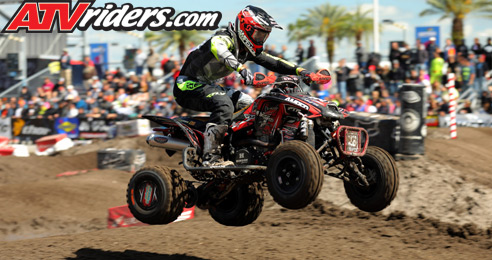 Tommy Vossman finished fourth in Production A and third in 450 A
Vossman is pleased to return to ATV Motocross with sponsorship from Baldwin and Maxxis, as well as PEP. He said he had the quad to beat all weekend at Daytona.
"The Baldwin/Maxxis Tires/Honda was on fire this weekend," said Vossman. "It was the fastest bike I've ever ridden. The PEP Suspension is on point and the Maxxis tires were hooking up everywhere. First year with Baldwin and I couldn't be more excited. There are 10 guys in A Class that can win this year. The track really showed who has been training and who hasn't and I'm stoked for Texas."
Rowe had trouble in qualifying and started ninth in the Pro main. Though he finished 10th in the main, he's hopeful for better showings as the season progresses.
Sam Rowe finished 10th in the Pro main, but he's hopeful for better showings as the season progresses
"I started in the back row for the main, and tried to work my way forward," said Rowe. "I ended up 10th. I'll take that and move on to the next race."
Moser, a competitive rider in his own right, is wrenching for the team this year. He is pleased with the results so far with the new team.
"I'm really happy to be here with Vossman," said Moser. "Mr. Vossman has me working with both Tommy and Jeffrey Rastrelli this year and both are making huge improvements. It I can't race, I'd rather be here working."
The Vossman team will be ready for action as the ATV Motocross Series next heads to Underground MX in Kemp, TX April 1-2.