Sherwood, WI (6/13/2017) - Countryside Auto Transport's Zac Zakowski earned a hard-earned fourth-place finish during the TORC Off Road Championship UTV Pro Modified race at ERX Motor Park in Elk River, MN. The finish moves him to second in points in his Yamaha YXZ 1000.
The event was held on ERX's purpose-built track. With temperatures at race time in the mid-90s, and a challenging course ahead of him for the 14-lap race, Zakowski was ready for action.
Country Side's Zac Zakowski just missed a spot on the podium in the 4th spot at the Twin Cities Take Down TORC race, which moved him into 2nd place in the TORC Pro Mod UTV Points Championship
After starting eighth, Zakowski was immediately hit by another car going into the first corner. Coming out 13th, Zakowski put his head down hard and charged through the pack, nearly taking third on the final lap.
"Into the first corner, we got T-boned into another car and got back out in 13th," said Zakowski. "We had to work our way all the way back. We were fighting hard, but every time I caught him I just didn't have enough motor to get past him. It's all about the championship and we'll get it. We want the car to finish every race."
Amsoil's Zac Zakowski kept his Yamaha cool with temps in the mid 90's on Saturday with his Amsoil Lubricants and Evans Waterless Coolant
With windy and hot conditions, the track dried out significantly during the race. The hot conditions took its toll on the field. Zakowski relied on his Kenda Tires, as well as AMSOIL Performance Lubricants and Evans Waterless Coolant to keep his ride running competitive all the way to the finish.
"We were running Kenda's new Mastodon HTs and they worked great in the changing conditions and especially in the sandy sections of the course," said Zakowski. "It was a scorcher this weekend, so we really needed to keep the car cool with Evans Coolant. We run AMSOIL synthetics in the engine. We didn't have problems and there were a lot of guys having engine issues."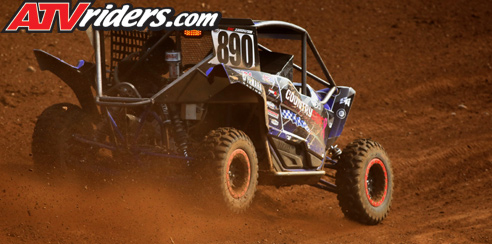 Kenda's Zac Zakowski is looking to earn a spot on the podium in his home state of Wisconsin at Crandon in two weeks
The race was originally scheduled as a doubleheader. After severe thunderstorms inundated the facility and caused widespread damage on Sunday, officials rescheduled to the second race to the season finale weekend in September, also at ERX.
"I really wanted to run today," said Zakowski. "We wanted to try to get on the podium because we've been just shy of it these last three rounds."
Zakowski will be seeking that first podium as the TORC Series next heads to Crandon International Off-Road Raceway in Crandon, WI.
Zac Zakowski Sponsors:
Countryside Auto Transport, Zakowski Motorsports, Johnny Greaves Motorsports, Amsoil, Kenda Tires, Straightline Performance, Spider Graphix, Top The Podium, Powersports 1, Evans Coolant, K&N, STM Powersports, DP Brakes, TB Performance