Sherwood, WI (6/28/2017) - Countryside Auto Transport's Zac Zakowski scored top fifth-place finishes during the doubleheader TORC Series UTV Pro Modified race at Crandon International Off-Road Raceway. Zakowski now sits fourth in points in his Yamaha YXZ 1000R.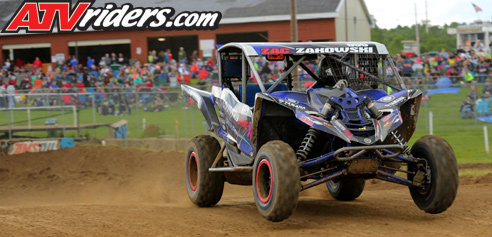 Countryside Auto Transport's Zac Zakowski scored a pair of 5th place finishes at Rounds 5 & 6 of the TORC Series held in Crandon, Wisconsin
The races were held on Crandon's short course. Saturday's weather was cool with intermittent rain. Officials canceled qualifying for Sunday's race due to heavy rain Saturday night and the field was set by points. Both races were scheduled for 10 laps with a competition caution at lap five.
In Saturday's race, Zakowski took on the land rush start from the second row with gusto and was quick on the dry slick and blue-grooved track. Despite running a naturally aspirated-engined car, he was in contention all race with the turbo machines.
Kenda's Zac Zakowski is currently 4th in points, just one point out of 3rd
"I started on the second row because our qualifying time wasn't what it needed to be, but we made up a lot of ground," said Zakowski. "The track was super dry slick and blue groove. The new Kenda Mastodons worked great. We just need a little more power."
On Sunday, the track started out damp, but quickly changed again to slick and fast. He was running sixth until the final corner and snagged fifth place right before the finish line.
"Two fives and it was a good weekend," said Zakowski. "We're getting good points and we're staying consistent. The track was slick again today. It turns into blue groove and gets to be one line, but it was good."
Amsoil's Zac Zakowski
Zakowski credited Kenda's Mastodon Tires for dealing with the racy conditions. He appreciated the control they allowed him on the slick racing surface.
"We're getting as much grip as we could ask for," said Zakowski. "In these loose conditions, you're sliding right next to each other and you're within inches. If your tires give at all, you'll crash into the guy next to you. They helped me stay steady in every corner on the track."
Zakowski now heads back to his shop and the quest for a little more horsepower. Considering his consistency this season, a little more speed will put him into podium contention.
"We just have to find a little more power these tracks and we'll be right there with everyone," said Zakowski. "TB Performance does my engines and considering we're naturally aspirated running against turbos, we're definitely holding our own. We just need to find a little bit more."
Zakowski will be looking for that first podium as TORC next heads to Bark River International Raceway in Michigan July 15-16.
Zac Zakowski Sponsors:
Countryside Auto Transport, Zakowski Motorsports, Johnny Greaves Motorsports, Amsoil, Kenda Tires, Straightline Performance, Spider Graphix, Top The Podium, Powersports 1, Evans Coolant, K&N, STM Powersports, DP Brakes, TB Performance