Sherwood, WI (7/19/2017) - Countryside Auto Transport's Zac Zakowski scored his first TORC Off Road Championship podium of the season after finishing third in the first of two Pro Modified UTV races at Bark River International Raceway in Michigan. In the second race, two competitors slammed into him while he was running third and an engine issue took him out of contention.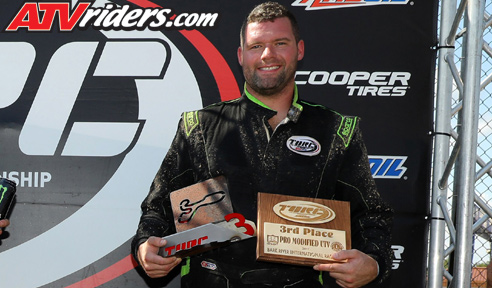 Countryside Auto Transport's Zac Zakowski claimed his first TORC Pro Mod UTV Podium finish at Bark River on Saturday
The races were held on Bark River's challenging 1.5-mile off-road course. The eight-lap races were stopped midway for a competition caution.
In Saturday's race, Zakowski started 10th and was climbing through the field from the start. He took fourth on lap four and quickly moved to third after the mid-race restart. It marked his first podium of the season and he dedicated it to his mother, Linda, who is recovering from breast cancer.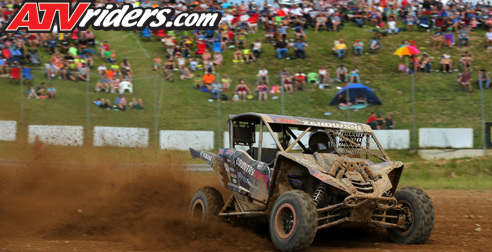 Kenda's Zac Zakowski charged his way through the pack on Saturday to secure the final spot on the podium
"I felt great today and I could do anything with the car," said Zakowski. "A little more speed and we would have been right there with Rodney and Kyle. I'm dedicating this race to my mom, Linda. She's been through so much, going through breast cancer. The track was by far my favorite."
Zakowski also credits the Greaves Motorsports crew and especially Johnny Greaves for building him such a great Yamaha for the TORC series. "I can't thank Johnny Greaves enough for building me such a great car for the TORC series, and now with the new front end, it handles better than ever, which has me confident that this won't be my only podium finish this season," said Zakowski.
Greaves Motorsports' Zac Zakowski still holds down the 4th spot in points heading into the second half of the TORC season
In Sunday's race, Zakowski was again quick. After taking third, however, two competitors crashed into his Yamaha and he spun. He recovered and made it back up to fifth before an issue took him out of the race.
"Today we had a tough race," said Zakowski. "With the highs come the lows. We just had a bad day today, but now we know we can hang in the top three and we'll make the car better."
Zakowski is living a childhood dream racing in TORC and Sunday's setback will not deter him. He is currently fourth in points and, with seven races left, he is still very much in the hunt for the championship.
"Overall, our season has been great," said Zakowski. "We're in the top five in points and there are a lot of rounds left. We're working on a new engine and we're still aiming for a championship."
With his first podium in the books, Zakowski is now seeking his first victory as TORC next heads to Redbud MX in Buchanan, MI August 12-13.
Zac Zakowski Sponsors:
Countryside Auto Transport, Zakowski Motorsports, Johnny Greaves Motorsports, Amsoil, Kenda Tires, Straightline Performance, Spider Graphix, Top The Podium, Powersports 1, Evans Coolant, K&N, STM Powersports, DP Brakes, TB Performance