Sherwood, WI (8/16/2017) - Zac Zakowski had an up-and-down weekend during rounds nine and ten of the TORC Off Road Championship Pro Modified UTV series at Redbud MX in Buchanan, MI. Zakowski put in stellar qualifying results, but in Saturday, he was involved in a crash, and Sunday, he overcame a broken shifter to finish fifth.
The races were held on a specially built course constructed to the side of Redbud's famous motocross track. The course was extremely tight and rough, featuring many braking and acceleration bumps, as well as big uphill step-up and several technical jumps.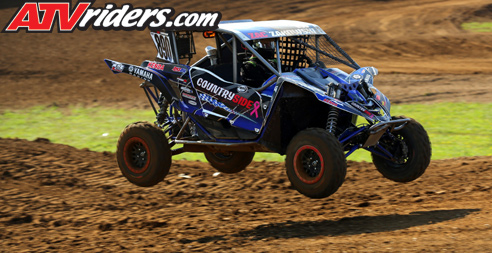 Zac Zakowski started on the front row and after a great run before the competition caution, he was involved in a collision that took him out of the race
In Saturday's race, Zakowski started on the front row and was running fourth into the lap-five competition caution. On the restart, he went into the first corner and got caught up in a multi-car pileup that took him out of contention.
"We went into the first corner and everyone piled into each other," explained Zakowski. "My car started snubbing out and when that second wave came through someone just plowed into me and bent the cage up."
Zakowski thought his weekend might be over before Greaves Motorsports stepped in. They spent a late night welding up his cage to get his car ready for action on Sunday.
"Johnny and CJ Greaves and everyone over there were a huge help," said Zakowski. "We brought it over there at 11 last night. Brad and Devon jumped in and rebuilt that section of the cage. It's stronger now and looks better than it did before it got hit."
Zakowski again started on the front row in Sunday's race. After the competition caution, he made a run looking to take fourth, but his shifter broke when he downshifted going into a corner. He nursed the car in third gear on the final lap to finish fifth. Zakowski is now fourth in points with four races left.
"I went into that tight left, downshifted, stabbed the throttle and there was just nothing there," said Zakowski. "I would have had fourth if it didn't break. Considering the day we had yesterday, we'll take that."
Zakowski was again running his trusty Kenda Mastodon HT Tires. Along with his TB Performance engine, they kept him competitive all weekend.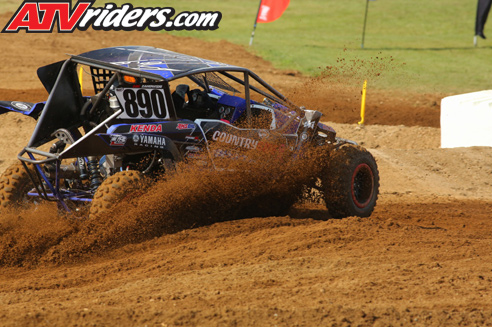 Kenda's Zac Zakowski charged through the rough track with his Mastodon HT tires
"The Kenda tires worked phenomenal out here," said Zakowski. "It was pure sand and they were great everywhere. We could turn anywhere we wanted to and cut under people. They were great. Kenda was out here in full force with the company and it was good to give them a good show."
Zakowski is still seeking his first victory as TORC next heads to Crandon International Off-Road Raceway in Crandon, WI September 1-2.
Zac Zakowski Sponsors:
Countryside Auto Transport, Zakowski Motorsports, Johnny Greaves Motorsports, Amsoil, Kenda Tires, Straightline Performance, Spider Graphix, Top The Podium, Powersports 1, Evans Coolant, K&N, STM Powersports, DP Brakes, TB Performance