Sherwood, WI (9/8/2017) - Zac Zakowski returned to his home track at Crandon International Off-Road Raceway and persevered through difficulties to turn in two solid runs in the Pro Modified UTV classes. He finished sixth in Sunday's Crandon World Cup and came back from being punted during Saturday's TORC race to finish ninth in his Countryside Auto Transport Yamaha YXZ 1000R.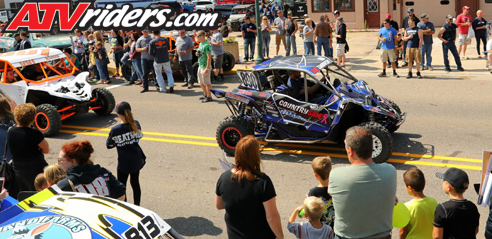 Kenda's Zac Zakowski kicked the weekend off at Crandon Big House Weekend by participating in the parade through downtown Crandon
Saturday's TORC race was held after the track was inundated with heavy rain all morning. Sporting a new set of Kenda Mastodon tires, Zakowski was nearly caught in a crash early in the race and then was hit from behind on the mid-race restart. Despite flipping due to the contact, he recovered to finish ninth and now sits fourth in TORC points.
"We haven't been involved with many altercations on the track this year, but Saturday was tough," said Zakowski. "On the first lap, a car went flipping into the gravel pit turn. It was right to my inside, it started flipping, it caught the ground and I actually drove underneath it. We got out cleanly, but the restart came, everyone was stacking up and we got slammed in the back. It just launched my car. We got back going, but we were just so far back."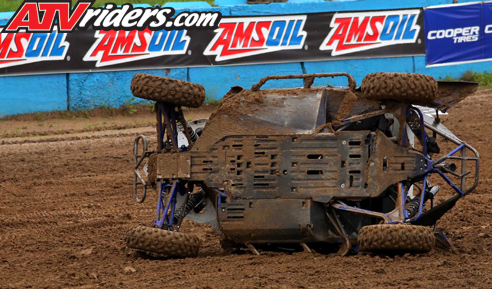 Amsoil's Zac Zakowski was flipped over in the restart, which sent him to the back of the pack
Prior to the crash, Zakowski was running a solid pace. He made a last-minute call before the race to run a set of uncut Kenda Mastodons. They made a huge difference.
"The Kenda Tires worked really well in the muddy conditions," said Zakowski. "We needed that much traction because it was so wet. That choice was spot on. They worked great."
In Sunday's special non-points Crandon World Cup, Zakowski's bad luck continued. He had issues with his ECU prior to the start and had to run a stock unit during the race. Despite being significantly down on power from the stock tune, he finished sixth.
"We had to run the ECU from my backup car and it is not programmed for the racing engine," said Zakowski. "So we were drastically down on power and drivability in that race. I struggled to find the proper gear the whole time because the tune was so far off. I was pleased with the finish, considering."
TB Performance's Zac Zakowski rebounded to finish 6th on Sunday in the Crandon World Cup
That race defined just how crucial tuning and engine work are to stay competitive in the Pro Modified class. Zakowski credited Straightline Performance and TB Performance for his engine and tuning.
"They are our engine and tuning sponsors and they've been phenomenal this year," said Zakowski. "They are at the race every weekend, keeping the car running right. They are a big reason why I'm sitting fourth in points right now."
Zakowski will be ready as the TORC Series finishes up the 2017 season in Minnesota. The season finale will feature three races in one weekend.
"Our goal is try to get that third spot in points," said Zakowski. "It's going to be tough, but people may have issues. We've had a bad run of luck in the last couple of rounds. There's still a lot of racing left."
Zakowski will be ready to bounce back during the tripleheader weekend at ERX Motor Park in Elk River, MN. The race is scheduled for September 23-24.
Zac Zakowski Sponsors:
Countryside Auto Transport, Zakowski Motorsports, Johnny Greaves Motorsports, Amsoil, Kenda Tires, Straightline Performance, Spider Graphix, Top The Podium, Powersports 1, Evans Coolant, K&N, STM Powersports, DP Brakes, TB Performance