Rialto, CA (9/20/2018) - ACE Motorsports drivers Laura Cole and Brian Willison recorded a pair of victories during the WORCS Series SXS races at Glen Helen Raceway in Devore, CA. They also made sure they would be a "pair" in the future during the weekend.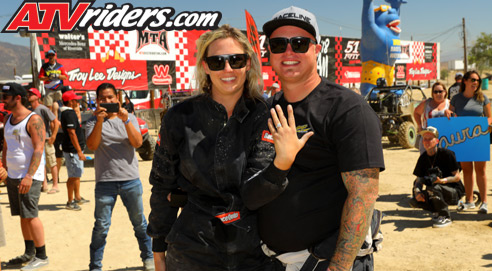 ACE Motorsports' Brian Willison proposed to Laura Cole at the finish of the Women's SXS race on Sunday
Cole led the way with a win the SXS Women's class that was made even more special at the finish line. At the finish, Willison's friends and family held a series of letters spelling out "Laura Will you Marry Me?" and Cole accepted. It marked Cole's first win of the season, which couldn't have come at a better time.
"It was a total shock and I thought I was trouble at first," said Cole, who is now in a numerical tie for first in points. "That's exactly when I saw the sign. I had no idea he was going to propose today. Brian and I had our first wins of the year this weekend and we got engaged. It's the best weekend ever!"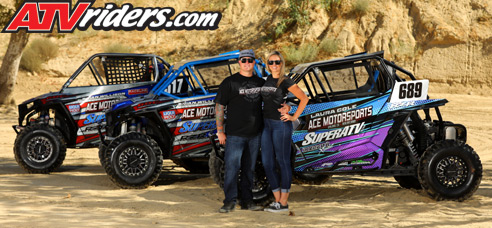 ACE Motorsports' Brian Willison & Laura Cole rebuilt their Polaris RZRs over the WORCS Summer Break
Cole was driving a newly rebuilt Polaris RZR in the events. It featured Super ATV Rhino 2.0 axles and suspension components, a new Bassani exhaust, Holz Racing Products kit, and a new wrap by Gator Wraps. Cole also raced the car in the Production Turbo 1000 race to shake it down for the Women's race.
"Super ATV came on board big time with all new axles and suspension and I had no problems on the rough course," said Cole. "The Holz cage and kit made a huge difference. Bassani Exhaust also came on board this year ,and I couldn't be happier with the extra power. It definitely paid off today."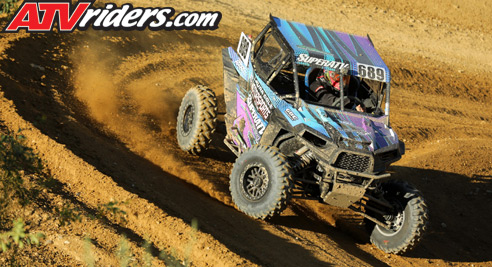 Bassani Xhaust's Laura Cole scored her first Women's class win
Willison scored his first victory of the season in the SXS Production Turbo 1000 race. Willison was also racing a newly rebuilt car and it ran flawlessly during the race. The win places him second in the title chase, just four points out of the lead.
"This is something we've been chasing all year," said Willison. "We put in a lot of work during the summer break and it paid off. Super ATV is a huge part of our program. The axles and suspension products worked perfectly today."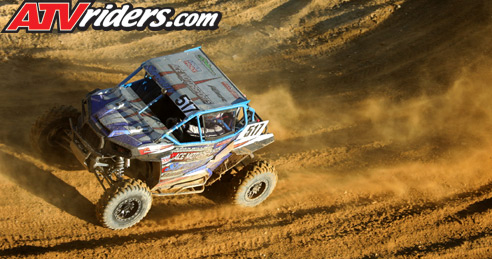 Super ATV's Brian Willison took home the Win
Willison was happy to solidify his relationship his three year relationship with Cole by proposing at the place they enjoy most: the race track. It marked the first on-track marriage proposal in WORCS history.
"I couldn't think of anyone else I'd rather spend the rest of my life with," said Willison. "I'm super excited we got to do this in front of our racing family and friends."
Cole and Willison will next head to Mesquite, NV for the second-to-last round of WORCS competition October 5-8. The event is being held at Mesquite MX.
Special Thanks to Our 2018 Sponsors:
Polaris, Holz Racing Products, Walker Evans, GBC Motorsports, Raceline, Bassani Xhaust, PRP Seats, SuperATV, Gatorwraps, Tireblocks