Rialto, CA (11/8/2018) - ACE Motorsports drivers Brian Willison and Laura Cole finished off their 2018 season in the WORCS Series with strong runs in the tour's SXS classes. Willison won the SXS Production Turbo championship, while Cole finished a close third in the SXS Womens class. The couple raced Polaris RZRs this season.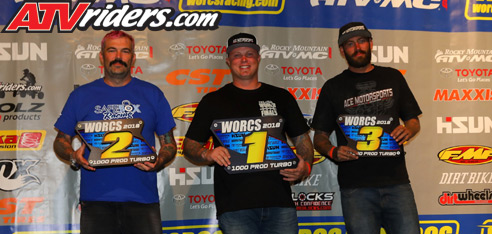 ACE Motorsports' Brian Willison (center) clinched the 1000 Production Turbo Championship
The final race was held at Buffalo Bill's Resort and Casino in Primm, NV and featured a special doubleheader format. It had two races on tap: a short course event and a desert race. The short course race counted for double points due to the previous round being canceled.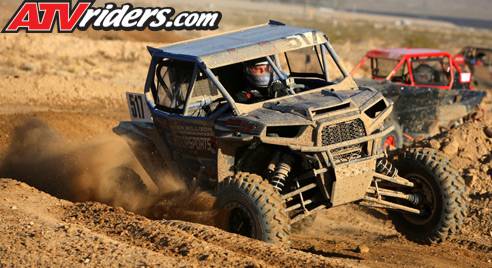 Super ATV's Brian Willison
Though it was just his second year in the WORCS series, and his first year in a turbocharged RZR, Willison shined in the SXS Production Turbo class. He won one race, and earned four additional podiums this season.
"I am super stoked to go out and win this championship," said Willison, who also finished fifth in the SXS 1000 Stock title chase. "My teammates Dylan Hollett and Matt Spellman were right there with me all season and it was fun racing with them. The work we put in paid off and I'm excited for my first WORCS championship. "I'm definitely excited that we could keep two cars on the podium this year."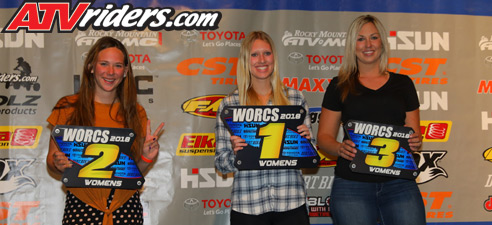 ACE Motorsports' Laura Cole (right) finished 3rd in the WORCS Women's SXS Championship
Cole was in her rookie season in the Women's class and was both competitive and consistent in what is one of WORCS most competitive classes. She claimed eight podium finishes including a win at Glen Helen, which had her tied for the points lead heading into the season finale.
"It was a great first year, and I worked really hard," said Cole. "The double points at the end on what wasn't my best day, put me back to third. Still, I'm really excited about how I did this season."
GBC Motorsports' Laura Cole
Cole took the holeshot in the short course race, but it was her first race on a Lucas-style short course, and she fell back to third at the finish, and she claimed another third place finish in the desert race.
"I never raced that kind of track before so the short course was a new and fun experience," said Cole. "I had fun, but it definitely threw me for a loop. The desert course was one of the most fun courses this year. There were a lot of tight turns and rough sections. My Walker Evans suspension was working and pushing me through the rough course."
Cole and Willison thanked sponsor Super ATV for stepping up this season. They ran Super ATV's tough and reliable suspension components and axles this season, and they also featured Super ATV on their new trailer wrap done by Gatorwraps.
"Super ATV was huge for us this year with their suspension components and axles," said Cole. "I didn't have one axle failure all year. It was amazing to stay on the podium all year long with zero axle failures."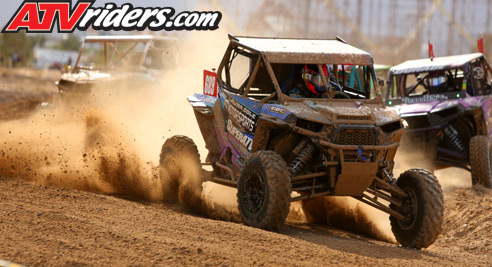 Bassani Xhaust's Laura Cole
Bassani Xhaust also backed the team this season. It helped ensure that Cole had enough power to podium.
"They were a huge help to my program," said Cole. "They promoted me and they gave my car a lot more power."
Along with their exploits on the track, Willison and Cole capped their three-year relationship by getting engaged at the Glen Helen round. It marked the first on-track marriage proposal in WORCS history.
Cole and Willison will return to the WORCS series next season when it kicks off SXS competition January 26-27th back at Buffalo Bill's Casino.
Special Thanks to Our 2018 Sponsors:
Polaris, Holz Racing Products, Walker Evans, GBC Motorsports, Raceline, Bassani Xhaust, PRP Seats, SuperATV, Gatorwraps, Tireblocks