BAK40 Shakes off Bad Luck, Excels at Bark River
BAK40 Motorsports Short Course Pro UTV Report
Connellsville, PA (8/22/2018) - BAK40 Motorsports, with drivers Tim Farr, Eric Gordon, and Thomas Reihner, posted consistent and successful results during the Lucas Oil Midwest Short Course League Pro Modified UTV races at Bark River International Raceway. The trio was running Can-Am X3s in the races held at the Michigan facility.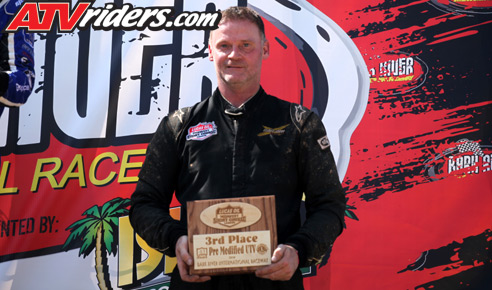 Bak40 Motorsports' Tim Farr scored a Podium finish on Saturday at Bark River Midwest Short Course League
Warm temperatures and clear skies during the weekend made for great racing. The fast and technical track is always a favorite on the tour as it offers some of the fastest and most competitive racing.
Though high intake temperatures hampered his efforts, Farr used his veteran skill to earn a third-place finish in Saturday's race. Shaking off bad luck that slowed his charges in the last two events, Farr drove a perfect race to land on the podium.
"We were getting hot so I had to pedal it a little bit," said Farr. "But my BAK40 Can-Am team did a great job. We were up against a lot going into the weekend with testing. We have a little more work to do, but this Can-Am X3 is just awesome."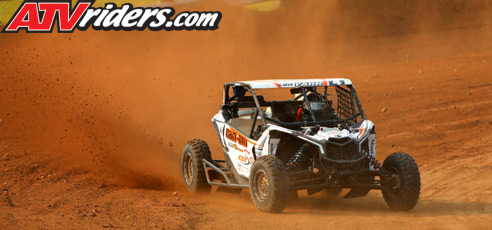 Bak40 Motorsports' Tim Farr
Reihner backed up Farr's efforts with a fourth-place finish on Sunday. After experiencing technical issues on Saturday, Reihner got a ray of good luck in Sunday's race.
"I went out there and pushed as hard as I could," said Reihner. "I was running sixth, and then bumped up a little bit. Those top guys are just fast and I'm trying to get to that point, too. We've worked through our mechanical issues this year. Now it's time to work on driving and really focus on Crandon."
Bak40 Motorsports' Thomas Reihner
Gordon charged to 11th on Saturday after getting stuck in traffic early in the event. He had mechanical issues on Sunday, but was happy with the team's results overall.
"As a team we performed well," said Gordon. "I got stuck in the back of the pack and made a charge to the front on Saturday. On Sunday, I got sidelined with an issue. There were a lot of rocks and the car took a beating. I was charging toward the front, but I hit a rock two laps from the finish and that put me out of contention."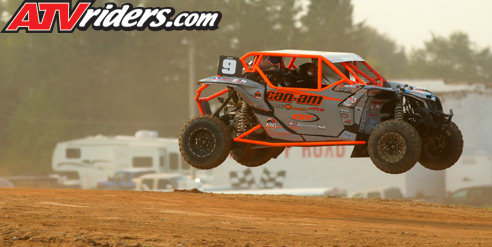 Bak40 Motorsports' Eric Gordon
The team was running CST's Dingo tires during the events. With the track going from slick and wet at the start to dry and dusty at the end of the eight-lap races, the team appreciated the consistent grip provided by their CST tires.
"We had the best tire out there," said Reihner. "The track started out wet and slick and then finished in blue groove. The tires worked perfectly in all of the conditions. It really puts the Can-Am's horsepower down to the ground."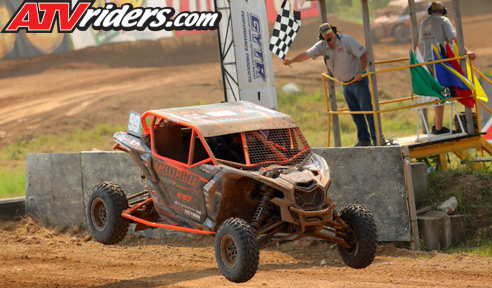 Bak40 Motorsports' Thomas Reihner
They were also running a new graphics package on their three cars. With similar designs, but different color schemes, the SSI Decals graphics looked stunning during the weekend.
"I definitely need to thank Ian from SSI Decals," said Gordon. "The designs and print were stellar, and he turned them around quickly. These are the best graphics we've had as a team."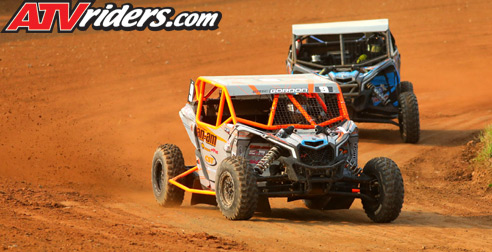 Bak40 Motorsports' Eric Gordon
The team is preparing to put on a big show at the season finale in Crandon, WI. Along with giveaways, T-shirts and more, the team is preparing to put its best effort so far this year into the closing race.
"The town really comes out for that race, so we want to give back," said Gordon. "Hopefully, the track will be good to us and all three of us will end up on the podium."
BAK40 is back in action and will be ready to roll as the Midwest Short Course League closes out its season August 31-September 1 at Crandon International Raceway.
BAK40 would like to thank its 2018 sponsors:
Can-Am, FRE, BAK40 Motorsports, CST Tires, Double E Racing, Hypercoil, Evolution Powersports, KWI Clutching, Hess Motorsports, PPEI, SSI Decals, DWT Wheels, STM, Baldwin Motorsport, FOX Racing Shox, JB Racing, CT Raceworx, Firepower