BAK40 Overcomes Challenging Weekend at ERX
BAK40 Motorsports Short Course Pro UTV Report
Connellsville, PA (7/26/2018) - BAK40 Motorsports, with drivers Tim Farr, Eric Gordon, and Thomas Reihner, came together and fought adversity as a team during the Lucas Oil Midwest Short Course League races at ERX Motor Park in Elk River, MN. The team is running Can-Am Maverick X3s in the Pro Modified SXS classes.
If the series offered a hard charger award, Farr would have earned it and then some during the weekend. After debuting a new car for the event, a technical issue sidelined them. In true team spirit, Gordon offered up his car for Farr and spotted for him during the races.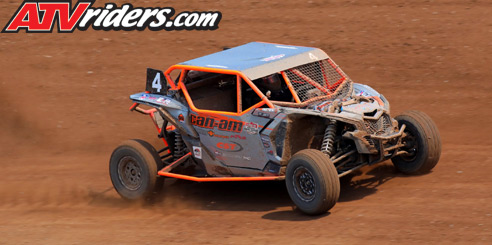 Bak40 Motorsports' Tim Farr
In Friday's race, Farr started at the back of the field and flew through the field several times, only to be sidelined by cautions and sent to the back. The carnage-filled race was shortened to six laps and despite the short time, Farr's veteran skills propelled him to a fifth-place finish.
"I did everything I could to get to the front, but every time I made it up, we had a caution and I was put to the back," said Farr. "I made a last-ditch effort and made it up to fifth. I felt like I could have been on the podium, but I just ran out of time. It's hard to keep coming back from the tail of the field with only six laps. I did my best to make something out of it."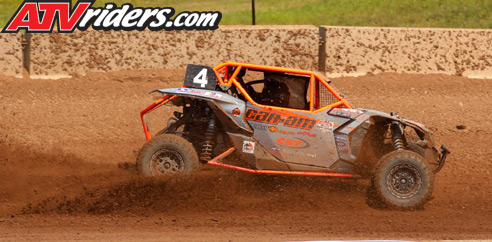 Bak40 Motorsports' Tim Farr
In Saturday's race, Farr took third into the first corner before several cars plowed into his Can-Am. He settled back for two laps to assess his car, and then began moving to the front. While challenging for third, he made incidental contact with another car and racing officials black flagged him. Despite having to restart at the back of the field with only a few laps left, Farr recovered to finish 11th.
"I pretty much got run over by several cars behind me into the first turn and nothing was called and nothing was done about it," said Farr. "I saw an opening going into the one of the 180-degree turns. I got a run on him on the inside. I locked them up, went wide and we came together. I got black flagged. There wasn't anything I could do. So I restarted at the back of the pack and made it up to 11th."
Despite the questionable calls, and difficulties during the weekend, Farr was happy with the way his new BAK40 team handled the difficult weekend. Farr is now fourth in points with a lot of racing left and he knows he and his team will rebound.
"The team did an excellent job of keeping things together and adjusting to the drama," said Farr. "We learned a lot and we still had fun."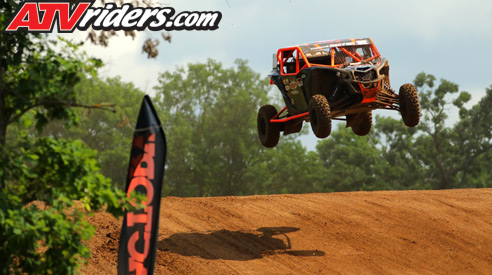 Bak40 Motorsports' Thomas Reihner
Despite mechanical issues, Reihner put in several hard charges and even led two laps of Friday's race. He appreciated being able to prove to himself that he had what it takes to run up front.
"It felt really good to be out in front," said Reihner. "I knew we could run up there and it was nice to prove it. These weren't the results I wanted, but we got some good quality seat time."
Bak40 Motorsports' Thomas Reihner
The combination of his proven Can-Am X3, along with his Double E Suspension tuned by George White and CST Tires worked perfectly on ERX's tough and technical track.
"ERX is one of my favorite tracks," said Reihner. "It's technical, and you have the split lane, which is also something to figure out. I was going through the whoops full throttle and it felt great. I think I had the best suspension setup on the track. I ran CST Dingo tires and I can honestly say they are a perfect all-around tire for short course racing."
BAK40 is not backing down. The team is ready for redemption when the series heads to Bark River International Raceway for the next Midwest Short Course racing weekend August 10-12.
BAK40 would like to thank its 2018 sponsors:
Can-Am, FRE, BAK40 Motorsports, CST Tires, Double E Racing, Hypercoil, Evolution Powersports, KWI Clutching, Hess Motorsports, PPEI, SSI Decals, DWT Wheels, STM, Baldwin Motorsport, FOX Racing Shox, JB Racing, CT Raceworx, Firepower