Saint Croix Falls, WI (8/15/2018) – Bikeman Performance driver Jason Luburgh had a full racing weekend during the Lucas Oil Midwest Short Course League SXS events at Bark River International Raceway in Michigan. The veteran off roader competed in both the Pro Stock and Pro Modified classes in a Polaris RZR.
Bikeman Performance's Jason Luburgh Pro Mod
His best result came in Saturday's Pro Modified event where he finished eighth, but he had great runs all weekend. He ran as high as third after starting last in Sunday's Pro Modified race and had a car that could win, but mechanical gremlins slowed his charge on the final lap.
"I had issues," said Luburgh. "On Saturday, I started seventh and made it up to fourth before I had the problem. On Sunday, I broke my belt on the first lap of qualifying so I had to start last. I was right there, and looking to battle it out, but I had a mechanical. We had a solid third and could have made a run for the win if I didn't have problems. It's definitely a freak issue, but one my Bikeman Team will definitely sort out before the next race."
Running both classes meant a lot of driving for Luburgh. While many drivers would tire of all the laps, Luburgh reveled in the additional track time.
"It's a lot to keep up with, but I really like it because I get more seat time and I get to race more," said Luburgh. "The stock class is a whole different animal, but it's a lot of fun. I really get to see the track and get to know exactly what's going on. It gives me an advantage in the modified class. I had a great time. I love Bark River and it's one of my favorite tracks."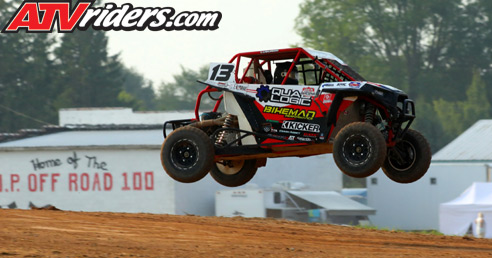 Bikeman Performance's Jason Luburgh Pro Stock
Track conditions were ideal during the weekend. The eight-lap races started with wet and slick conditions from track watering and ended rough and blue grooved. Luburgh's GBC tires worked perfectly and he appreciated having multiple choices of tires to run.
"I started the weekend off with the Terramasters, and they worked well, then, on Sunday, I switched to the Mongrels and they worked even better in that hard pack, blue groove," said Luburgh. "That's the great thing about GBC is I have a lot of different options to play with for each track. Plus, I have never had any issues with my GBC tires so it's one less thing to worry about."
Rugged Radios provided the team clear communications, and Luburgh's Fox Shocks were dialed in. AiM data systems gave Luburgh data he used to further tune in his car.
"Rugged Radios made sure we had good communications," said Luburgh. "The Fox Shocks were on point and they really helped me get to the front. The AiM diagnostic system has been a game changer for us. The guys from AiM come to the trailer with data that really helps us out."
Bikeman Performance and Luburgh will return to the Midwest Short Course League during its 2018 season finale August 31-September 1 at Crandon International Raceway in Wisconsin.
2018 Bikeman Performance Team Sponsors:
Bikeman Performance, Polaris, Bully Dog, GBC Motorsports, DWT, FOX, Kicker, Clutch Energy, Quad Logic, Race Coatings, Auto Trimmers, Clown Concepts, Hess Motorsports, Crash Addict, Rotation Motorsports, Rugged Radios