Saint Croix Falls, WI (9/10/2018) – Bikeman Performance driver Zach Martin scored two top-ten finishes during the season finale of Midwest short course SXS racing season at Crandon International Raceway. Martin was driving a Yamaha YXZ 1000R in the Pro Stock class.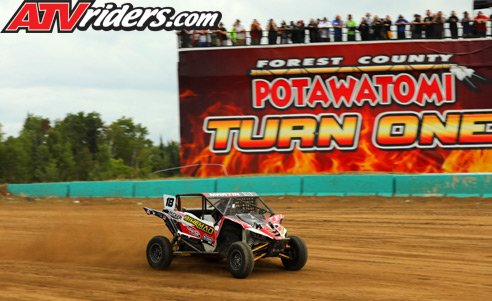 Bikeman Performance's Zach Martin
The weekend included two races: the season finale of the Midwest Short Course League and the Crandon World Cup. In the MWSCL race, Martin qualified fourth, but was held up by a slower competitor during the race and finished eighth. Martin finished eighth in points with his best finish, a second, coming at ERX in Minnesota.
"We're always excited to be at Crandon," said Martin. "You have great fans, the best of the east and the best of the west. We come together in one location. Unfortunately, we got held up a little bit by the guy in front of us. I was trying to be courteous and not take him out, but that cost me quite a few positions."
Bikeman Performance's Zach Martin
In Sunday's Crandon World Cup race, Martin again qualified fourth and came out of the gate sixth. Despite the competitive nature of the class—with the top 20 within one second of each other in qualifying—he held his position and finished sixth.
"We got a better start and learned a little bit on Saturday," said Martin. "The adjustments we made helped and we got out of the gate clean. We maintained our position the entire race."
Bikeman Performance's Zach Martin
Martin was in his first year under the Bikeman tent, though he had worked with team owner Jimmy Krantz quite a bit in the past. He said the team brought a lot to the table this year and made sure he was competitive.
"I've always worked with Jimmy and Bikeman, but this year we were a little more direct," said Martin. "I enjoyed it. The team did great and I think I fit right in. Jesse Klaus and I were running the same Bikeman tune and we were very pleased with the performance and the results."
Martin will spend the off-season further developing his Yamaha at his home base Georgia. Look for him to run another competitive season in the 2019 Midwest Short Course League.