Athens, GA (9/10/2018) - Connor Wood finished out the 2018 Lucas Oil Midwest Short Course League season in style, by qualifying for both Pro Stock SXS races and putting in great drives in both features. The events were held at Crandon International Off-Road Raceway in Wisconsin.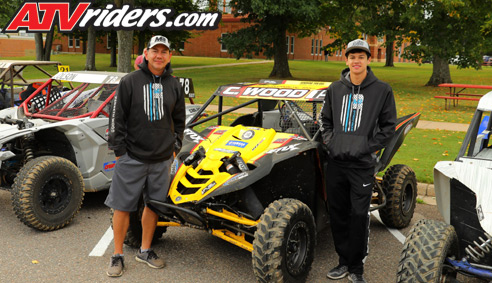 Kenneth & Connor Wood participated in the Crandon Parade
The weekend comprised two different races: The final round of MWSCL competition on Saturday and the Third Annual Crandon World Cup on Sunday. Wood qualified in the middle of the pack for Saturday's race, fell back a few slots, and rebounded to finish 15th. In the Crandon World Cup race, he was running a competitive pace before a mechanical issue took him out of contention.
"It was a great weekend," said Wood. "I was really excited that I qualified for both days. I raced, got passed a few times, and then passed every one of them back and even gained a position on Saturday. On Sunday I was doing pretty well in the middle of the pack, but had a mechanical issue. I felt really good and it was a good weekend to end it on."
#15 Connor Wood charging through Turn One
With the help of Mills3 Racing, Wood stepped up to the Pro Stock class this season, after running Sportsman in 2017. The Mills team transported his car and gave him trackside support during the races. Like the Mills team, he and his father spend the racing weekends together.
"If the Mills weren't here, I wouldn't be here," said Wood. "Everything about us running this series was due to them. My dad and I have so much fun together. We get excited for this, get ready and spend the whole weekend together. I have family back home that I call to tell them how I did and they are always supportive."
After running one full season in the Sportsman class, Connor elected to step up to Pro this year. Though the competition was definitely stiffer, he appreciated the professional nature of the drivers.
"Pro Stock was definitely harder with more talent and more people, but it was better," said Connor. "In Sportsman you deal with a bunch of amateurs that will beat up the car with a lot of crashes. The Pros don't do that, so the car held up much better this year. I'm glad I made the move."
Wood even shared some sponsors with the Mills crew. He ran Fuel tires and wheels and was extremely pleased with the durability of the wheels and the competitiveness of the tires.
"Fuel Wheels were big for us this year," said Wood. "I ran their tires one race and they did really well. The wheels held up great and were perfect all season."
With the announcement that the Mills team isn't going to compete full time next season, Wood is looking for another team. He hopes he can find that soon because he thoroughly enjoys the series,
"I love this series," said Wood. "The people are amazing and super nice. They will do anything to help you out. We just need to find another team to pick us up so we can continue to compete here."
Woods hopes to continue growing in the Midwest Short Course League next season and may also compete locally in his home state of Georgia.