CST's Team Takes Four Podiums at Glen Helen WORCS
Atascadero, CA (9/18/2018) - CST's Beau Baron won the Pro ATV race, and finished third in both the SXS Pro and SXS Pro Stock races during the WORCS Racing events at Glen Helen Raceway in Devore, CA. Teammate Mitch Anderson finished third in the Pro 2 Motorcycle race and extended his points lead.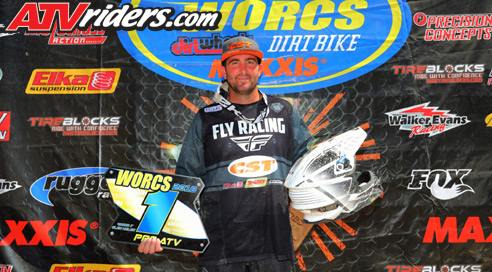 CST's Beau Baron secured his third staight Pro ATV Win along with Podium finishes in both the Pro Stock & Pro Production SXS Classes at Glen Helen WORCS
Baron surprised everyone, including himself, when he snagged the holeshot after the Pro ATV dead engine start. From there, he dominated the race, leading all eight laps and earning his third consecutive victory. He now owns a five-point lead in the title chase.
"I'm just pumped because today was the first day that I ever got a dead engine start for the holeshot, ever," said Baron. "I got out front, tried to put in a good pace at the beginning, and rode smooth and steady to come out with the win."
Baron continued his string of consistent finishes in the SXS Pro Stock race, finishing third. It marked his fifth consecutive podium and he now leads the points race by 19 going into the final two races of the season. He followed that up with another bronze effort in the SXS Pro race and he now sits third in points in that class.
"I can't complain about a third in the Pros," said Baron. "I had a little bit of issue with my brakes and other things, but I mean all in all, I'm just happy to be on the box. It takes a lot to get there—look at how many cars broke today. I'm just pumped to be here."
After issues in last year's race, Baron elected to run a taller CST Stag tire during the event. After dialing in his air pressure and making some changes to his Elka shocks with the help of Doug Roll, he had the complete package for the challenging course.
"I just added a bunch of air to the rear to try to get the thing to slide, and we got it to slide," said Baron. "Doug told me to take a turn out preload out of the front, and that's what we did. The track was narrower and harder to pass on because we didn't run the whole truck track, but the speeds are really, really high. I couldn't believe how high the speeds were."
Anderson has been the picture of consistency this season in the Pro 2 Motorcycle class and he continued his podium streak here. He has now finished on the podium in all six races this season and leads the points by 11.
"I'm battling for the title, so this was good for me to keep it going," said Anderson. "I made a charge for second, but they cut us off a lap early so that was enough for him to hold me off. The CST tires worked great in all conditions: the motocross and the off road, and all of the transitions between them."
Baron and Anderson will be back in action as the WORCS Series next heads to Mesquite MX in Nevada October 5-7.
Beau Baron 2018 SxS Sponsors:
Polaris, CST Tires, Holz, Sparks, Elka, Dwt, Tireblocks, Pro Motorsports, Shoei, X Brand Goggles, Rugged Radios, Atvriders.com
Beau Baron 2018 ATV Sponsors:
CST Tires, Sparks, Elka, Dwt, Tireblocks, Roll Design, Fasst Co., IMS, Hinson, Quad Tech, Maxima Racing Oils, TCS, Sunstar, Works Connection, Precision Racing, Bolt, Pro Motorsports, LKH Farms, H&M Motorsports, Impact Solutions, Atvriders.com, Gaerne, Shoei, Streamline Brakes, FLY, X Brand Goggles
Mitch Anderson 2018 Sponsors:
CST Tires, Bolt Motorcycle Hardware, FLY Racing, WPS, Rekluse, FMF, Goolsby Motorsports, EKS Brand Goggles, DDC Sprockets, IMS, RAW Racing, Leatt, Acerbis, Pivot Works, Cylinder Works, Vertex, Hot Rods, Hot Cams, Spider Grips