Beau Baron Second in WORCS Pro ATV Championship
Atascadero, CA (11/1/2018) - CST's CST's Beau Baron finished second in the Pro ATV portion of the WORCS season finale at Buffalo Bill's Resort and Casino in Primm, NV. The podium finish placed him second in points, just one point out of first.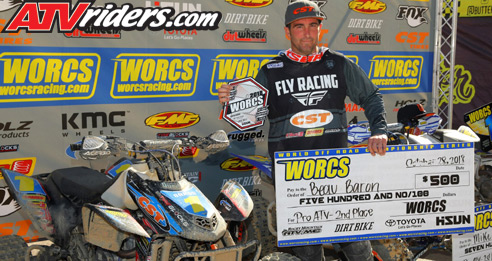 CST's Beau Baron Takes 2nd in the WORCS Pro ATV Championship
After winning four races this season and scoring two additional podiums, it wouldn't be truthful to say it didn't sting to miss the title by such a small margin. However, that disappointment will only turn into drive as the "Rider from Atascadero" readies for 2019.
"One point; that's all it is," said Baron. "I won more races than anyone else this year, but it didn't work out in my favor. I'm definitely bummed, but we'll work hard on next year."
Maxxis / Elka's Beau Baron
Baron has had a dominant season. Along with the four ATV wins, Baron is a favorite to win the SXS Pro Stock title, and his teammate Mitch Anderson won the Pro 2 Motorcycle Championship. Baron and Anderson have also posted stellar results in the Big 6 motorcycle championship.
Riding his CST KTM, Anderson scored a single victory and finished on the podium at all eight Pro 2 races. He finished third in the season finale to net the title and will move up to the Pro class next season.
CST's Mitch Anderson Clinched the Pro 2 Motorcycle Championship
"I think I was the only guy to finish on the podium at every race this year, so consistency paid off," said Anderson. "This is the biggest championship I've ever won. It's like graduation day because I'm moving up to the big class next year. We'll enjoy it and it's one to remember."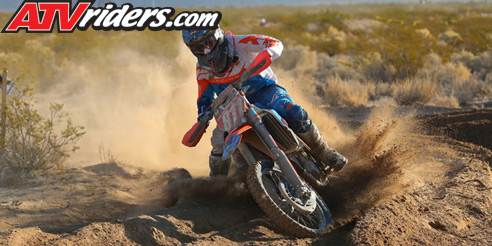 CST's Mitch Anderson
Both Anderson and Baron relied on their CST Tires this season. Baron ran CST's competitive tires on both his ATV and his SXS, while Anderson ran them on his motorcycle.
"My program wouldn't be where it is without CST tires," said Anderson. "A lot of credit goes to CST for sticking with me this year."
Baron is looking to finish up the WORCS season in style, and with the Pro Stock SXS title. He leads the points going into the final race of the season November 2-3, also being held at Buffalo Bill's. Anderson will have to wait until next year, when he will compete in the new moto-only weekends beginning with the season opener January 19-20 at Buffalo Bill's.
Beau Baron 2018 SxS Sponsors:
Polaris, CST Tires, Holz, Sparks, Elka, Dwt, Tireblocks, Pro Motorsports, Shoei, X Brand Goggles, Rugged Radios, Atvriders.com
Beau Baron 2018 ATV Sponsors:
CST Tires, Sparks, Elka, Dwt, Tireblocks, Roll Design, Fasst Co., IMS, Hinson, Quad Tech, Maxima Racing Oils, TCS, Sunstar, Works Connection, Precision Racing, Bolt, Pro Motorsports, LKH Farms, H&M Motorsports, Impact Solutions, Atvriders.com, Gaerne, Shoei, Streamline Brakes, FLY, X Brand Goggles, Rugged Radios, Immortal ATV, JB Racing
Mitch Anderson 2018 Sponsors:
CST Tires, Bolt Motorcycle Hardware, FLY Racing, WPS, Rekluse, FMF, Goolsby Motorsports, EKS Brand Goggles, DDC Sprockets, IMS, RAW Racing, Leatt, Acerbis, Pivot Works, Cylinder Works, Vertex, Hot Rods, Hot Cams, Spider Grips