CST's Beau Baron Clinches WORCS SXS Championship
Atascadero, CA (11/7/2018) - CST's Beau Baron won two championships, and Mitch Anderson earned one title during the 2018 WORCS and AMA District 37 Big 6 seasons. Baron clinched titles WORCS Pro Stock SXS and in Big 6 ATV. Anderson clinched the title in WORCS Pro 2 Motorcycle.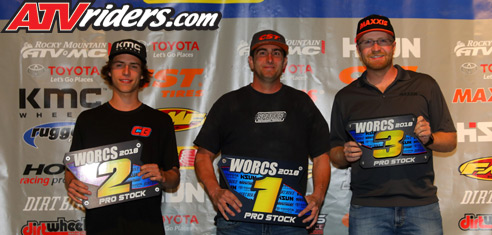 CST's Beau Baron secured the WORCS Pro Stock SXS Championship
Baron made WORCS history this season by winning an unprecedented 10th overall championship. Interestingly, he's now won titles in WORCS ATV and SXS competition. Baron won two SXS Pro Stock races this season, and earned four additional podiums.
"Locking up the championship at the last race is stressful," said Baron. "This weekend was a lot better than last weekend. So now I'm headed to Gorman to try to get a championship in ATV at Big 6."
Baron packed up his rig and headed from the WORCS finale in Primm, NV covering 242 miles to Gorman, CA for the second-to-last Big 6 ATV race. By winning the race, he unofficially clinched the championship.
"It was a mission," explained Baron. "I crashed out for a few hours, then headed out at 3 a.m., went to the Big 6 and went to the line. I just made it on time. I got the holeshot and just checked out. The course was awesome. It flowed really well and it was great for ATVs. It was really fun."
With little time, Baron dialed in his Elka shocks. His CST tires allowed him to snag the holeshot on the uphill start, and he dominated from there.
"My Elkas were great," said Baron. "I just went with my best guess on setup and it worked. It was uphill start that went to the left and the CST tires really hooked up. I got the jump right off the bat. That holeshot made a huge difference."
Anderson clinched the WORCS Pro 2 title last week in the motorcycle finale. Anderson finished on the podium at every round this season and scored one victory to snag the title. He plans to move up to Pro next season.
"This is the biggest championship I've ever won," said Anderson. "It's like graduation day because I'm moving up to the big class next year. This is only the beginning. We have a lot of work ahead of us."
At the Big 6 race, the Pro II Motorcycle race was postponed until Sunday after a fatality at the track. After getting a decent start, Anderson pitted early. From there, he rode hard, making up three positions to finish second.
"I just couldn't find the flow right away, so I pitted at about halfway and regrouped," said Anderson. "I left the pit fifth, and passed two riders right away. Then I made the pass for second on the second-to-last lap. We were putting some time on the leader, but just ran out of time. We'll take the second, but I definitely had more to give."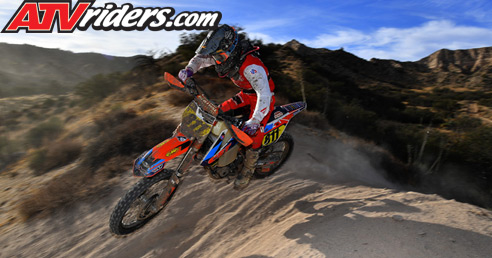 CST's Mitch Anderson
The "California Pavement" conditions suited Anderson's CST tires. With plenty of grip through the hard-edged off-road sections and the motocross track, Anderson never ran out of traction.
"It was really, dry, dusty, and hard and the CST tires worked great," said Anderson. "The off road was hard as a rock with a lot of square edges, and I wasn't starved for traction anywhere."
Both Anderson and Baron will finish up their Big 6 seasons December 6-7 in Lake Havasu City, AZ. They will return to WORCS competition when it kicks off the 2019 season in January.
Beau Baron 2018 SxS Sponsors:
Polaris, CST Tires, Holz, Sparks, Elka, Dwt, Tireblocks, Pro Motorsports, Shoei, X Brand Goggles, Rugged Radios, Atvriders.com
Beau Baron 2018 ATV Sponsors:
CST Tires, Sparks, Elka, Dwt, Tireblocks, Roll Design, Fasst Co., IMS, Hinson, Quad Tech, Maxima Racing Oils, TCS, Sunstar, Works Connection, Precision Racing, Bolt, Pro Motorsports, LKH Farms, H&M Motorsports, Impact Solutions, Atvriders.com, Gaerne, Shoei, Streamline Brakes, FLY, X Brand Goggles, Rugged Radios, Immortal ATV, JB Racing
Mitch Anderson 2018 Sponsors:
CST Tires, Bolt Motorcycle Hardware, FLY Racing, WPS, Rekluse, FMF, Goolsby Motorsports, EKS Brand Goggles, DDC Sprockets, IMS, RAW Racing, Leatt, Acerbis, Pivot Works, Cylinder Works, Vertex, Hot Rods, Hot Cams, Spider Grips